Top 10 Manufacturers of Geo Bags in India
14 Dec

Top 10 Manufacturers of Geo Bags in India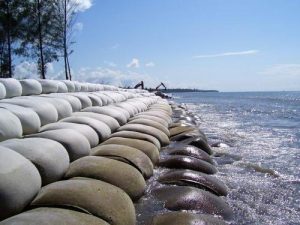 Geo bags are sand-filled high-strength geotextile bags that are used for riverbank, beach protection, and offshore breakwater protection. Geo Bags are an excellent alternative to traditional maritime protection materials.
Geotextile Sand Containers (GSC) are a low-cost, soft, and reversible option for beach protection constructions and the reinforcement of existing coastal barriers and structures. GSCs are becoming more popular as an alternative to traditional hard frameworks due to their multiple advantages.
Top 10 Geo Bag Manufacturers in India
1. Ocean Global
Ocean Global is a well-known producer and manufacturer of geosynthetic materials in India. In India, they manufacture geotextile, geogrid, geomembranes, geocomposite, and geonet, among other geosynthetics.
Ocean Global develops geo bags that are both affordable and durable. They may be utilized for a variety of projects depending on the client's demands due to their diversity in function and availability in various sizes. Their geo bags, which are composed of geotextiles and come in a variety of sizes, are sand-filled. They're also called Geotextile Sand Containers (GSC), and they're essentially coastline protection equipment.
Geo bags can be woven geo bags or nonwoven geo bags, depending on the geotextile used. Woven multifilament geo bags, nonwoven polypropylene geo bags, and nonwoven polyester geo bags are all options.
They are quick to embrace new technologies and build one-of-a-kind technological solutions because they have over 21 years of experience. They adhere to the highest manufacturing and production standards and offer fully integrated services.
2. Suntech
Since its inception in 2013, Suntech has been a high-quality manufacturer and provider of Geosynthetic materials with a considerable market presence. Suntech geo bags are constructed of non-woven and woven geotextile materials that are sewn on two sides and open on the other.
Suntech geo bags are polypropylene bags that are used to protect hydraulic infrastructure and riverbanks against severe erosion, scouring, and flooding. They are filled with dirt or sand and installed during the building of maritime and hydraulic constructions.
3. Geotex Textile Pvt. Ltd.
Geotex Textile Pvt Ltd was founded in the Surat District of Gujarat in 2009. With a combined 30+ years of textile manufacturing and trading experience, our promoters, Mr. Arya and Mr. Singhania, decided to build a woven PP bag manufacturing plant to serve the growing and rapidly developing Gujarat State, which is seeing fertilizer, sugar, and cement plants come in and close to the state's borders.
As a supplier to the hazardous and precious stone sectors, they understand the necessity of a high-quality product to prevent leaks and contamination, thus they never skimp on manufacturing.
4. Emmbi Industries Ltd.
Emmbi manufactures about 100,000 pp woven bags every day, with a variety of construction and design options. Sand, food grains, seeds, fertilizers, sugar, beans, rice, gravel, and coal may all be transported in these bags.
Woven sacks are the most often used small bags all over the world, and Emmbi is delighted to be one of the top geo bag producers on the market today, with a global customer. They create over a hundred thousand plastic woven sacks each day as top pp bags suppliers, serving sectors such as coal mining, construction, agriculture, and more.
5. Virendera Textiles
Virendera Textiles specialize in providing a comprehensive selection of Geo Bags. Their main goal is to meet the needs of their customers with a high-quality assortment of items. These are utilized on overpasses, parks, riverbanks, and pavements, among other places. They are made using high-quality raw materials under the supervision of skilled personnel. Each item is rigorously checked by our quality assurance team after it is manufactured to verify that it meets industry standards. The Geo Bag range is noted for its strong construction as well as its ease of installation.
6. Churiwal Technopack Pvt. Ltd
Non-Woven Geo Bags is one of their most well-known producers and exporters. The supplied geo bags are frequently used to transport household items like veggies. Their provided geo bags are simple to transport, fill, and empty. The geo bags on offer are equally popular in both rural and urban settings. The bags are constructed of natural and biodegradable jute fiber that has a longer service life and has been durability tested.
7. Siddhi Rubber Udyog
They are a well-known company in the market for providing the highest quality Woven Polyester Geo Bag to our customers. Their Geobags for River Banks and Flood Controls are extremely strong and durable, allowing them to contain a wide range of sand particles. Geo bags are produced from Polyester or PP fiber, or a combination of both, depending on the specification and user needs. They also sell high-tenacity Needle Punch cloth, which may be used to make Geobags.
8. Garware Technical Fibres Ltd.
Garware Technical Fibres Ltd. is a major operator in the technical textiles industry in India. The firm, which was founded in 1976, is currently a multi-divisional, multi-geographical technical textiles enterprise that specializes in high-performance aquaculture cage nets, fishing nets, sports nets, safety nets, agricultural nets, coated fabrics, geo bags, and geosynthetics.
9. Times Fiberfill Pvt. Ltd.
Times Fiberfill Pvt. Ltd. is Eastern India's only manufacturer of Geo Bags. Customer-specified non-woven polyester and polypropylene Geo Bags are manufactured by them.
Their geo bags are meant to provide a low-cost solution to soil erosion by allowing most in-situ resources, such as sand, to be utilized as a bulk fill. They are a novel, cost-effective, rapid, and dependable building approach that has proven ideal for usage in even the most challenging access areas, ranging from 0.5 to 10 m3.
10. Knack Packaging Pvt Ltd.
Woven Fabric is used in the creation of the Knack geo bags. These bags are commonly utilized in the packaging business since they are the greatest match for the demands of the customers. Polypropylene is the most common material used in woven bags in the packaging industry. Food, fertilizer, seeds, cement, chemicals, and other businesses utilize these bags.