Top 10 Manufacturers of Geotextile in India
04 Dec

Top 10 Manufacturers of Geotextile in India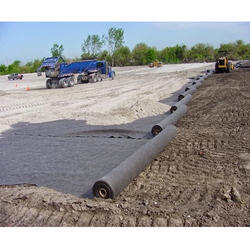 Over the last fifteen years, geotextiles have grown more popular as a type of geosynthetic material. The material's biodegradation resistance is a key reason for its success in more than 80 applications. Geotextiles are fabrics in the usual sense, but not in the way you might think. Natural fibers such as cotton, wool, and silk are not used. Geotextiles are synthetic fibers that may be manufactured into a nonwoven needlefelt fabric that is flexible and porous. To varying degrees, they are permeable to water movement.
Non-woven geotextiles account for the majority of the Indian geotextiles market and are expected to grow fast over the next nine years as a result of low costs and increased usage of non-woven geotextiles in a variety of industries. Woven geotextiles are predicted to grow substantially during the next nine years due to their ability to provide reinforcement.
The Top 10 Geotextile Manufacturers in India are:
1. Ocean Global
Ocean Global, one of India's top geotextile manufacturers, offers a healthy and long-lasting Geotextile line that is stitch-free and available in a variety of colors and lengths to fit the clients' demands.
Ocean Global, located in New Delhi, was formed in 1998 and is India's leading provider of ecologically friendly engineering solutions. Ocean Global is recognized for its innovative geosynthetic and engineering solutions that handle a wide range of soil-related problems on construction sites.
For both local and foreign markets, Ocean Global's nonwoven geotextile product range is quality certified to the highest production standards in ISO-accredited quality facilities. The polyester continuous filament nonwoven geotextile is available from Ocean Global in a range of weights, strengths, and filtering properties.
2. Shri Ambica Polumer Pvt. Ltd.
Shri Ambica Polymer Pvt. Ltd. is a 100% export-oriented company based in Gujarat, India, with manufacturing facilities across 18,000 square meters. Shri Ambica has been recognized by the Indian government as an "Export House." They process around 18,000 MT of polymer every year and primarily export to the United States, the United Kingdom, and Europe.
AmTec Geo geotextiles are woven on Sulzer looms with a larger width of up to 4.5 metres. Their Geotextiles are also certified in some cases. They may make tape x tape as well as geotextile.
3. GSE Environmental
The commitment to offering consistency in quality, pricing, and protection to our global consumers has earned GSE a reputation for dependability. They are dedicated to innovation and quality, and this, along with their knowledge and flexibility, allows them to collaborate with customers to develop a personalized, purpose-fit solution.
GSE manufactures the most consistent, adaptable, and homogenous nonwoven geotextiles on the market. To fulfill your unique project needs, the items are available in a variety of weights and thicknesses.
4. Shakti Polyweave Pvt. Ltd
Shakti Polyweave Pvt. Ltd., situated in western India, is a global provider of polypropylene woven technical fabric and bags. The firm features a 600,000-square-foot manufacturing plant. They can export 90% of their products all over the world because of in-house training theories and tight quality inspections.
Their Geotextile is built from high-tenacity virgin polypropylene slit tapes that are developed and weaved in a pattern to keep their relative position and provide exceptional separation and stabilizing performance. The specific weaving design keeps soil and gravel in place while allowing water to travel through, preventing dirt from clogging up drainpipes, soil erosion, and soil displacement.
5. Suntech
Since its inception in 2013, Suntech has been a high-quality manufacturer and provider of Geosynthetic materials with a strong market presence. Suntech has quickly established itself as a prominent brand in the geotextile industry throughout the world.
Individual threads and tapes are weaved on a loom to create woven geotextiles at Suntech. The weaving technique is similar to that of manufacturing textile cloth. Polypropylene is the most common manufacturing polymer (PP).
6. Rowtex Exports India Private Limited
Mr. Rohit Toprani founded Rowtex Exports India Private Limited in 2008 and now has over 25 years of expertise in the geotextile industry. Rowtex Exports India Private Limited continues to develop, manufacture, and provide a modern variety of technological tech materials that meet stringent quality standards at competitive costs.
North America, England, Europe, Australia, New Zealand, and the Middle East are among the continents where their products are sold. Rowtex creates products that are tailored to the climate and geology of each place.
7. Kusumgar Corporates
Kusumgar Corporates has a strong track record in the field of specialist textiles, offering a wide range of textiles for a variety of purposes. Cordura textiles, custom fabrics, geo-synthetics, recreational fabrics, parachute fabrics, protective fabrics, ballistic fabrics, filter fabrics, parasail fabrics, impression fabrics, and medical textile fabrics have all been popular with clients throughout the years.
8. Ginni Spectra Private Limited
Ginni Spectra Private Limited, which was founded in 1992, is a prominent manufacturer and supplier of a comprehensive range of Geotextile Fabrics. Their products are made with high-quality raw materials and cutting-edge technologies. They also provide our product line in a variety of specifications to fulfill the unique needs of the customer.
9. Virendera Textiles
Virendera Textiles high level of protection to the soil before construction with the wide range of Geotextile. The manufacturing process is overseen by highly skilled employees at their well-maintained manufacturing facility. Their Geotextile is utilized in the building of walls, foundations, highways, and drainage systems, among other things.
10. Sargon Geosynthetics Limited
Sargon is a fast expanding company dedicated to providing industry-leading ground engineering solutions with a focus on infrastructure development and environmental protection. Their geotextile solutions are effective in a wide range of applications, including Soil Structure Reinforced Soil Stabilization, Landfills Erosion Control Channel Protection Lining Slope Consolidation, Pavements for separation, filtration, and drainage.