Does Water go Through Geotextile Fabric?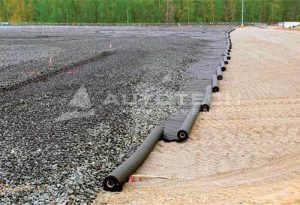 LANDSCAPE FABRIC AND DRAINAGE FABRIC
Geotextile is a fabric used in soil planning, water extraction, and engineering. These synthetic fabrics are also able to penetrate, which means that gases and fluids can pass through them. This is why geotextile materials are used in situations where barriers are needed but water and air transfer must be able to overcome obstacles.
While landscaping fabric and drain field fabric are both geotextile materials, they are very different for very different applications.
Landscape fabric is used as a visual barrier (weed barrier) in gardens and planting beds. The fabric is placed on the ground, between plants/plants, forming a barrier that allows air and water to pass through the fabric for the plants to grow. It is also a barrier to weed growth, preventing it from growing roots. The fabric also blocks the light that will keep weeds from growing.
Drain Field fabric is used as a filter for the septic drain field. The drainage field consists of a layer of soil and/or sand on top of a rock layer and a layer of fabric is placed between the soil layer and the rock layer. Water and air are approved to pass through the soil layer to the rock layers but will not allow the soil to move in or through the rock layer. If the soil moves and gets under the rock, it can reduce the efficiency of the drainage system. This is why the fabric plays such an important role in protecting the working capacity of the suction system.
Table of Contents
OTHER GEOTEXTILES USES:
Although landscape fabric is used as a biological barrier, geotextile materials are often used in a variety of applications that utilize their filtering skills. For example, road construction often uses these objects as dividers that can fit between different layers of objects in a roadbed. This, too, is similar to the drainage fields. Geotextile are also commonly used to prevent erosion of hills and slopes because they form a barrier that prevents soil from moving while allowing water to pass through and escape from the soil. This type of passage eliminates the accumulation of groundwater pressure that can easily obscure a hill or slope.
FRENCH DRAIN:
As you know, gutters catch water as it comes out of the roof; French drain is exposed to water at a low level. When it rains, the water tends to congregate at the lowest points in your area. By rearranging the flow of water through the French canal, this situation is reduced. A French drain will also solve your underwater problems. The basement allows water to enter the foundation, causing water to flow against the foundation and to leak slowly into the basement. The French drain, as the water approaches the base will regenerate and relocate. If you encounter running water in your basement, you probably do not have enough running water and you should install a French drain in the house. This involves cutting a ditch on the lower slab running the base cycle. A pipe is then placed in the trench, followed by a sump pump that will move the water inside and out.
TAILINGS DAMS AND WATER SUPPLEMENT PONDS
Ocean Global has a range of solutions specifically designed to securely contain the most potent liquids in reservoirs and wastewater treatment plants. Our lining solutions can be adjusted to suit high salts and high or low pH applications.
STORAGE OF WATER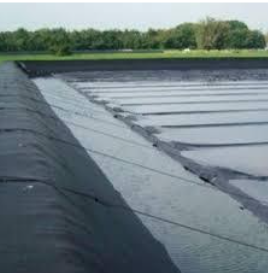 Ocean Global has a list of solutions directly available for potable water storage infrastructure, including systems for dams and reservoirs that help prevent leaks. We also provide Oasis floating covers for potable water reservoirs which help in the preservation of our water supply systems by protecting the surface thereby maintaining the quality of the water and preventing water loss through evaporation.
STORMWATER ARRESTATION & HARVESTING
Due to the continuing rise in global temperatures, we are all constantly faced with the need to reduce the need for drinking water sources to irrigate gardens, courses, and stadiums. EcoAID basement rooms offer an effective solution for the capture, confinement, and storage of rainwater for use in irrigation systems. The system can integrate external medical technology to isolate and remove dirt and debris making it easier to maintain. The potential in the construction of ecoAID rooms produced in Australia is that they are suitable for underground parking, car parks, highways, and stadiums, and are often used to keep public spaces free from open beds and above groundwater storage areas.
ADORNING LAKES & PONDS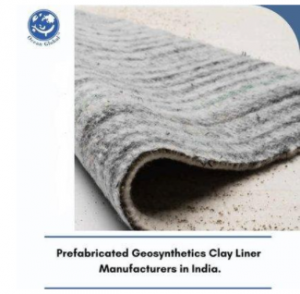 Water hazards and decorative lakes improve the morale of parks, golf courses, and other recreational areas. These ponds should be designed to meet the environment that requires the use of products that meet the technical requirements for water storage without compromising the aesthetic appeal within the land area. Ocean Global's Geosynthetics Clay Liners & Bentonite Liner is ideally suited for line pools as it offers an easy-to-install solution that can easily match any pool profile.