Geomembranes as Floating Covers for Odor Control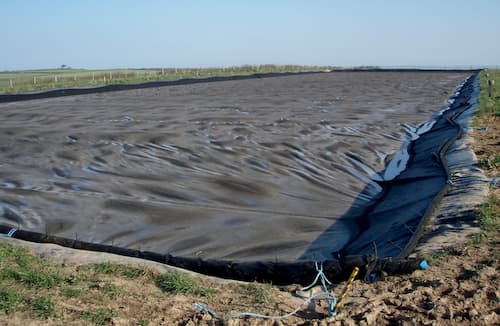 PC: Google.
The versatile industry of geosynthetics is a boon for civil and environmental engineering. They have a plethora of applications in various sectors ranging from defense, roads, and railways, to environmental solutions and agriculture. One such significant application is the use of Geomembranes as floating covers for odor control in the Agricultural sector. Geotextiles, geomembranes, geogrids, geocells, geonets, geosynthetic clay liners, etc., all come under the umbrella of geosynthetics and perform functions of separation, filtration, drainage, and stabilization depending on how they are used.
Ocean Geosynthetics, the geomembrane manufacturers, is your go-to for the entire range of floating covers deployed in the agriculture sector for the purpose of odor control.
What are Floating Covers?
Geosynthetics are made of polymeric material and used in conjunction with soil/earth/water providing innovative and economical engineering solutions. Floating covers are nothing but geomembranes designed to float as a cover for containment purposes.
An enormous challenge in agricultural practices is odor control. Whether it is a manure management plant that requires controlling the unpleasant odor or containing biogas utilized for multiple purposes, the geomembrane floating covers are versatile in their use.
The reinforced geomembranes are laid on the surface of the containment structure with a buoyancy system that allows them to stay afloat. Not just less expensive, but these geomembrane covers are virtually maintenance-free and come with a life expectancy of 25 years or more.
Features of Floating Covers:
With the characteristics of high strength, chemical resistance, durability, and increased flexibility, the HDPE geomembrane floating covers find a wide array of containment applications. Available as smooth or textured variants, these floating covers can retain their physical and mechanical properties even in extreme temperatures. Individual membranes laced together form a complete cover to contain the said project during the time of installation.
Additional Applications of Geomembrane floating covers:
Wastewater and manure ponds inevitably result in ammonia, hydrogen sulfide, and other noxious chemical emissions that cause unpleasant odor and pose a respiratory hazard for field workers. In fact, long-term exposure to such gases in the atmosphere can lead to skin and eye irritation in addition to respiratory distress.
Geomembrane floating covers are an effective and economical solution to contain such odors. Besides containment of unpleasant smell, the floating covers also serve to reduce liquid loss through evaporation when in use over lagoons, as tank covers, or insulated covers.
In manure management, these covers prevent evaporation and emission of volatile particles, trapping the odor within. For biogas collection, which generates heat and electricity, the floating covers are easy to install, creating anaerobic conditions producing biogas.
The geomembrane odor control floating covers have multiple benefits, including but not limited to: cost efficiency, odor control, gas collection and management, algal control, evaporation control, liquid insulation, high durability, accelerated biological treatment, elimination of airborne contamination.
Whether it is algae control, evaporation control, temperature control (insulation), debris control, biogas collection, or floating covers for reservoirs, lagoons, and potable water, the Ocean Geosynthetic floating covers are versatile in their applications.
Ocean geosynthetics, the name you can trust in the global geosynthetics industry.
FAQs
What are the considerations for geomembrane selection in landfill applications? 
When selecting a geomembrane for landfill applications, factors like chemical resistance, puncture resistance, hydraulic conductivity, and regulatory requirements should be considered.
Can geomembranes be used in floating capping systems?
 Yes, geomembranes can be used in floating capping systems to provide a barrier between the cap material and the underlying waste, preventing the migration of contaminants.
How are geomembranes repaired underwater? 
Underwater geomembrane repairs can be performed using specialized techniques such as diver-assisted welding or adhesive bonding with underwater-compatible materials.