Geosynthetic Clay Liner – 6000 Sq mtr and HDPE Geomembrane – 6000 sq mtr to Jharkhand (Waste Management Project)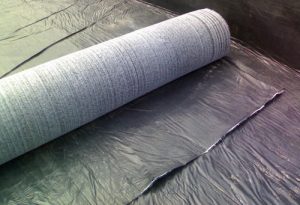 Increasing levels of solid waste production and its disposal has driven the need to isolate the chemicals and other harmful components from the waste by proper means of engineered liner systems that would help with lower permeation.
Waste management has always been a major issue and needs to be tackled with care and proper Liner systems in place.
For a very long time, Geosynthetic Clay Liners and recently HDPE Geomembranes have been used as the means to tackle the problem of land and water pollution caused due to the inappropriate waste management systems. Using these liners help in the proper control of fluids and harmful gas migration.
This case study provides a detailed insight into the problems and challenges posed by the waste management in Jharkhand, which needs a proper management and engineered system and structure in place to provide a better environment to all mankind, by managing waste appropriately using the best and least permeable materials.
Product: Geosynthetic Clay Liner – 6000 Sq mtr and HDPE Geomembrane – 6000 sq mtr
Location: Jharkhand
Problem
The problems faced by the inappropriate waste management systems are humongous. As the population grows, so rises the production of waste. And thus, without any proper systems and mechanisms in place, it really becomes difficult to manage the huge amounts of waste that eventually results into dumping on a land, popularly known as Landfill, without proper administration and monitoring of the same.
The landfills in Jharkhand truly had some known loopholes, owing to which it resulted in many problems that posed a great threat to the society on the whole, such as, groundwater pollution by the impure water seeping into the land from the waste, or even soil degradation and land pollution. No wonder, the quality of air has also deteriorated over the years.
The waste management system in Jharkhand was a drive by the government to deal with the imminent threat posed by the same to the environment and even in the form of health hazards.
Solution
Geosynthetic Clay liners and HDPE (High Density Polyethylene) Geomembranes are the most popular forms of liners being used these days to tackle the problem caused in such landfill at Jharkhand by providing the much needed low permeability that would eventually top the seepage and leakage of the harmful components from the solid waste in these landfills.
Both these materials are highly recommended throughout the world owing to their higher strength, lower permeability, maximum inherent flexibility, tremendous chemical resistance, weathering resistance and do not require any additional adhesives to go along with them. Also, both are extremely cost-efficient materials that also are known for their longer durability.
Other major benefits of using the two liners is that they both have higher hydraulic qualities along with being extremely environment friendly and very much easy to install as well.
FAQs
What are the different thickness options for geomembranes?
Geomembranes are available in a wide range of thicknesses, typically ranging from 0.5 mm (20 mil) to 3.0 mm (120 mil) or more, depending on the application requirements.
How are geomembranes tested for quality control?
Geomembranes undergo various tests, including thickness measurement, tensile strength testing, elongation testing, tear resistance testing, and seam testing, to ensure their quality and performance.
Can geomembranes be repaired if damaged?
Yes, geomembranes can be repaired using techniques such as patching, fusion welding, or adhesive bonding, depending on the extent and nature of the damage.