Landfill Project at Jharkhand – Case Study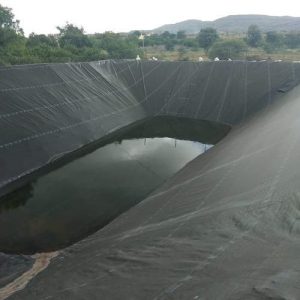 Waste is hazardous to the environment, and waste leachate may have an impact on land and water. The landfill project, which is utilized as containment for solid waste, garbage, and other waste, is becoming increasingly popular in order to safeguard the environment.
Municipal garbage, hazardous waste, and industrial waste are examples of diverse types of water. All trash should be stored in a secure location with no leaks.
To achieve the best efficiency, the landfill project employs a variety of geosynthetic products, including HDPE geomembrane, nonwoven geotextile, geosynthetic clay liner/GCL, geonet geocomposite, and others. The geomembrane liner is the most crucial; it is waterproof, impermeable, chemically resistant, and puncture-resistant, and it keeps leachate out of the soil.
The geosynthetic products geomembrane and geotextile are frequently utilized in civil engineering projects such as waste containment, road building, landfills, mining, and the energy industry. For aquaculture farms, water containment, waste containment, and landfill projects, HDPE geomembrane liner is the best anti-seepage lining material. Filtration, drainage, separation, protection, and reinforcing are all functions of geotextile fabric. Geotextile fabric is divided into two types: woven geotextile and nonwoven geotextile.
Product – Geomembrane – 29629.85 sqm
Project Holder Name – Municipals Corporation of Jharkhand
Problem
For a long time, cities across India have struggled with a lack of effective trash disposal facilities. Household garbage, both biodegradable and non-biodegradable, is frequently collected, but it is rarely processed or properly disposed of. The majority of rubbish ends up in landfills outside of major cities, which continue to rise in height with each passing day as a result of the amount of trash thrown there.
Jharkhand is one of the biggest landfills in India, where more than 600 tonnes of garbage is dumped every day. The dumping of garbage in Jharkhand leads to environmental hazards and serious health issues for the people living in the area.
Solution
Using Geomembrane-29629.85 sqm was thought of as an exclusive idea to minimize the environmental hazards. The initiative will help to improve the local environment by minimizing rubbish pollution, preventing water and soil pollution, and reclaiming a substantial piece of the dumping site for scientific solid waste management.
As people's living standards rise, so does the amount of rubbish generated in cities. Garbage must be processed in order to prevent pollution of the environment. For a long time, the majority of home waste treatment was simply dumping, and the waste composition was extremely complex. After the hypoxia and fermentation reactions, the leachate produced is the most problematic and difficult to handle sewage after the disposal.
A rubbish dump that hasn't been properly managed has become a long-term source of pollution, contaminating groundwater severely. Garbage produces harmful gases, which are directly released into the atmosphere, contaminating the air and negatively impacting the ecosystem. The garbage-generated biogas has not been drained or transferred horizontally. The rubbish explodes and self-incinerates when the concentration reaches 5-15 percent. This has happened in a lot of landfills. The government of Jharkhand is increasingly concerned about environmental issues, thus it has constructed a massive landfill to address the existing issues.
HDPE geomembrane for landfills is just one of the many civil engineering applications for which HDPE geomembrane can provide an anti-seepage liner solution. The principal raw materials utilised in HDPE geomembrane are high-density polyethylene and medium-density polyethylene. HDPE geomembrane liners come in two types: smooth surface geomembrane and rough surface geomembrane.
Geomembrane liners constructed of high-density polyethylene (HDPE) are often used as part of a barrier system at the landfill's base in municipal solid waste landfills. In a landfill with a single liner, a gravel leachate drainage layer, a protective layer, and a composite liner comprised of an HDPE geomembrane and either a geosynthetic clay liner or a compacted clay liner are usually employed. The composite liner is the primary barrier to leachate movement to surface or groundwater. The leakage of fluids and gases through composite liners was the subject of a recent study.
Standard geomembrane has lower tensile strength and stretch than HDPE geomembrane for landfills. Growth is faster, acid resistance is stronger, and the geomembrane may be used for extended periods of time. Due to the increased rain, the unique HDPE geomembrane for landfills is more likely to use the rough surface geomembrane with a slipping effect.
HDPE geomembrane liners feature anti-seepage capabilities, as well as excellent chemical resistance, incredible stress cracking ability, low permeability, exceptional UV resistance, and low-temperature brittleness resistance. As a result, HDPE geomembrane is the most widely used anti-seepage bottom pond lining and covering material for a variety of applications, such as landfill projects, biogas digester projects, sludge and sewage treatment facilities, and animal manure evaporation ponds.
The landfill needs 29629.85 sqm HDPE Geomembrane to meet its capacity. The delivery, installation, and connection of a 1.5mm thick Geomembrane at the bottom and slopes was part of Ocean Global's scope of work. In the environment, this membrane is resistant to cracking. Because of its high UV protection, it may be utilized both indoors and outdoors.