Slope Protection NTPC Project in Gurgaon Haryana – Case Study
Landslides, also known as landslips, usually occur due to gravitational force but are triggered by some action or the other, either human-induced or natural/environmental failure.
They include the free downfall of debris, rockfalls, soil, mud, etc.
They can generally occur anywhere, from coastal cliffs to mountain ranges, to underwater, and on other gentle or steep slopes.
Also, landslides can be caused by either human interventions such as deforestation activities or cutting down slopes and mountains for road enlargement, excavations, etc. Or they can also be a result of the overall global warming and other climate changes occurring rapidly causing major ecological problems and upheavals.
However, it has become all the more necessary to help prevent soil erosions and other landslide problems which can cause a huge hazard not only to the environment but also to the inhabitants of the place, and also endanger life.
Thus, it is the use of Geotextiles and Geocells that helps in the necessary slope prevention thus, preventing any landslides and other related problems.
Product – Geotextile & Geocell- 712* 75mm
Quantity – 8200 Sqm
Location – Gurgaon, Haryana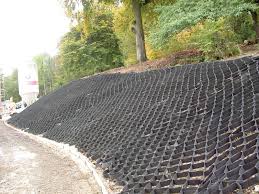 Problem
Slope failure has over the years led to a lot of problems such as drainage, rising groundwater levels, soil erosion, Physical and chemical weathering, etc. that needs to be addressed using only the proper solutions.
Unstable slopes are the major reason behind such calamities along with fragile soil structures and require immediate and efficient stabilization.
Thus taking care of the landslides and other slope failures in the National Thermal Power Corporation (NTPC) in Gurgaon, which is also an ecologically sensitive zone, was really mandatory considering the major ecological damage it would bring along.
The area witnesses major landslides owing to natural calamities such as cloudbursts, heavy rainfalls, and weathering processes, among many other things.
Thus to increase the tensile and shear strength of the soil, various geosynthetic materials needed to be used on various slopes to prevent them from getting eroded and increase their stability in return.
And in this area, the geosynthetic materials used were the Geotextile and Geocells of 712* 75 mm.
Solution
Geotextiles are nothing but the geosynthetic fabric that is generally used in proper soil planning and engineering solutions.
They provide the best solution by being more porous or penetrable to let the passage of air and water and yet act as a barrier as well.
They help in reinforcing the soil structure and increase the tensile strength of the soil as well as the moisture availability in the soil. Owing to the application of the geotextiles on the unstable slopes, the sediment and rock deposits on the flat terraces were completely mitigated.
Similarly, the application of Ocean Global Geocells helped improved the slope prevention activity as well. They are extremely cost-effective and a high-quality solution to help prevent soil and slope erosions, thus reinforcing a sustainable greener footprint.
They are strong and weightless foundation reinforcement mats that help in increasing the load-bearing capacities of soils, thus helping soil consolidation erosion control and thus as a result land conservation. They also act as barriers for sloped surfaces to control erosion of soil.
Frequently Asked Questions (FAQ)
Is Geocell resistant to UV radiation? 
Yes, Geocell is designed to be resistant to UV radiation, ensuring long-term durability and performance in outdoor applications.
Can Geocell be used for load support under airfields? 
Yes, Geocell is suitable for load support under airfields, providing stability and load distribution for aircraft movements.
Is Geocell compatible with various soil types? 
Yes, Geocell is compatible with various soil types, including sandy, gravelly, and cohesive soils.