How does a Geotube Work & How much do Geotubes Cost?
The Geotubes are as well as known as geo bags — used for sludge dewatering projects of different sizes due to their simplicity and low-cost factor.
They are containers that are hydro mechanically filled with a slurry mix of sand and water. The hydraulic pressure assists to transport the sand along the inside of the tube, while the water will dispel through the permeable engineered fabric, then the sand will settle out within the container by gravity.
The Geotube system can be applied in various industries, including shoreline protection, land reclamation, island creation, wetlands creation, construction platforms, revetments, dykes, groins, and offshore structures.
Table of Contents
The system doesn't work with belts, gears, or complicated mechanics. As well, they are available in distinctive sizes, depending on the volume and space requirements. They can even be mounted in mobile roll-off containers that can be transported around your property being necessary.
Ocean Woven Geotube dewatering containers are an effective dewatering technology fabricated from a specially engineered textile that provides confinement of the fine solids inside the container while allowing water to permeate through the engineered textile. Being the water drains, the solids continue to densify and consolidate ahead of time. Once the solids are fully consolidated or have fulfilled minimum requirements for transport, several options are available for disposal of the dewatered material.
Geotube dewatering containers are prefabricated utilizing high-strength and quality seaming techniques into tubular, bag-like, or other forms with filling ports or other provisions for site filling. The containers are custom-sized to save land space and are ideal for areas where space is a constraint. Geotube dewatering containers are structured to optimize the solids retention and effluent discharge rate and quality making it a highly efficient and environmentally friendly solution for different sludge dewatering applications.
The Benefits of Ocean Woven Geotube Dewatering Containers at a Look:
Highly effective technology that generates high volume reduction and holding of solids
High waste discharge rate with clear filtrate that can be recirculated through the system
Personalized containers save expensive and limited land space
Easy removal and clearance of solids
A potent, versatile, and environmentally friendly solution reduces carbon footprint
Reliable in all weather conditions and reduces risks in operational safety
Economical, low maintenance, and as well saves time
How Does Ocean Woven Geotube Dewatering Technology work?
Dewatering with Ocean Global Geotube technology is a three-stage process:
Stage 1: Filling
Sludge (slurry material) is pumped into the Ocean Woven Geotube container. Environmentally-safe polymers are included in the sludge, which makes the solids bind together and water separate. The Ocean Woven Geotube container's unique fabric confines the fine grains of the material.
Stage 2: Dewatering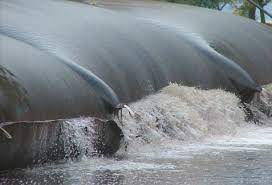 Clear effluent water simply drains from the Ocean Woven Geotube container through the small pores in the specially engineered textile. This leads to effective dewatering and efficient volume reduction of the contained materials. The volume reduction permits for repeated filling of the Ocean Global Geotube container. Over 99% of solids are caught, and clear filtrate can be collected and redistributed through the system. The decanted water is sometimes of a quality that can be reused/returned for processing or returned to native waterways without additional treatment.
Stage 3: Consolidation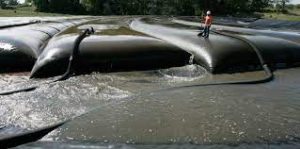 After the last and final cycle of filling and dewatering, the solids remain in the bag and continue to brace due to desiccation as residual water vapor escapes through the fabric. Volume reduction can be as high as 90%. When complete, the Ocean Woven Geotube container and contents can be deposited at a landfill, remain on-site, or the solids can be diminished and land-applied when appropriate.
Advantages
The Geotubes container provides many benefits, including:
A high flow rate permits residuals to dewater, leaving beneath the solids
Custom fabricated with seaming techniques that can withstand pressure while pumping operations
It can be personalized designed and fabricated.
It is a specially engineered system via advanced textile technologies
It is an excellent solution for revetments, breakwaters, dykes, and groins
Functions and Applications
Post the delivery and Geotube installation, the sludge treatment is with specialist polymers and then pumped into the containers.
Concluding, pure effluent water is drained, leaving the solid particles within the container. When complete, the containers are disposed of at a landfill, or the sludge can be removed and land-applied.
Application
The process is simple though effective, which makes it perfect for the:
Pulp and paper industries
Primary and secondary lagoon cleanout
Mining and mineral processing to remove railings
Coal sludge
Municipal wastewater treatment plants
Marine remediation
Power & utility
Pulp & paper
Light industrial
Agriculture involving the dairy industry, piggeries, and abattoirs
Aquaculture
The Geotube system has as well been used for water and wastewater treatment to provide a reduction of up to 85% to 90% in BOD and to efficiently manage waste in the dairy, poultry, and other agricultural industries.
Also read about Top 5 Things you should know about Geotubes before using them.