Geotubes, the Effective Solution for Sludge Dewatering
The challenge of wastewater management is universal. India, especially, is very vulnerable to water issues considering the increasing population, rapid urbanization, and inefficient wastewater management. Dwindling freshwater reserves, climatic changes, and groundwater depletion further exacerbate the problem. Geosynthetics play an indispensable role in geo environmental engineering. Geotubes, in particular, is an effective solution for dewatering sludge and managing wastewater.
Table of Contents
What is dewatering?
Dewatering literally means the removal of water. It is a common practice in the construction and wastewater treatment industries. In wastewater treatment, it involves the removal of liquid from the sludge/slurry. Power plants, refineries, wastewater treatment plants, industrial waste, municipal sludge, nuclear plants, and hazardous contaminants all deploy the dewatering technique.
Why is dewatering necessary?
Sludge dewatering separates the solid and liquid components of the sludge/slurry. The primary purpose is waste minimization, elimination of liquids before disposal, and overall cost efficiency for storage, transportation, and waste disposal.
Geotubes, The practical solution for dewatering sludge: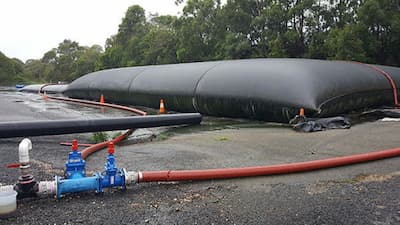 Pic Cr: Google.
What are Geotubes?
Geotubes are containers or units made of engineered geotextiles (polypropylene). They provide a high volume and low-cost means of dewatering contaminated wastewater or sludge. The geotubes are made of high-strength permeable geotextiles.
Geotubes come in custom sizes, are efficient, versatile, and reliable under any weather conditions. They have operational safety, are cost-effective, and low-maintenance. Most significantly, they are environmental-friendly, reducing the carbon footprint.
The main functions of the Geotubes are:
High volume containment, where solids are confined and contained inside the unit.
Efficient dewatering, where any liquid drains out of the unit leading to waste volume reduction.
Consolidation, where the residual solid dries out over time.
How do they work?
Dewatering of sludge with Geotubes is a three-step process:
Filling and Thickening: The initial step is to pump the dredged waste or slurry into the Geotube. The addition of environmentally-safe flocculants accelerates and enables the binding of solid wastes, separating the liquid/water.
Dewatering: In this phase, excess water drains out of the porous geotextile layer of the Geotube. The dewatering leads to efficient waste volume reduction. Depending on the quality of the effluent decant, it is either subject to further processes or safely let into streams and water bodies without treatment.
Consolidation: Post dewatering, the solid residual in the Geotube continues to dry and densify. Dewatering sludge with Geotubes achieves almost 90% volume reduction. Ultimately, the Geotube is cut open, and the solid waste is transported away for disposal.
At Ocean Geosynthetics, it is all about smart work with smart products.
The Geotube dewatering technology finds a marketplace in ports and harbors, for coastal protection, dams, and levees, for solid wastes in landfills and sludge pond remediation.
Recycling and reuse of wastewater can help solve the prevalent water crisis. The geotube dewatering technology is extremely simple and economical and is the preferred choice globally for wastewater treatment. The entire process is odor-free and noise-free, unlike most mechanical and industrial processes.
To take your project from vision to completion, we at Ocean Geosynthetics invest time understanding your project before providing tailor-made solutions. With a highly experienced and responsive team, your project is in good hands.
With Ocean Geosynthetics, be assured of good collaboration, environmentally safe, high-quality, cost-effective products delivered on time, every time.