Top 10 Drain Cell Manufacturers in India
25 May

Top 10 Drain Cell Manufacturers in India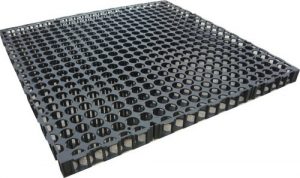 Drainage Cell Systems provide a convenient solution for sub-soil drainage applications, letting for the creation of a successful Roof Garden without the worry of cracking/leaking. The drainage cells offer a consistent surface as well as an internal void space for optimum water drainage.
Drainage Cells are mostly consisted of recycled polypropylene and are repellent to bacteria and chemicals that are found in the soil. Landscapers can employ established plants on roof gardens that need soil depth.
The Top 10 Drainage Cell Manufacturers in India are:
1. Ocean Global
Ocean Global, one of India's top Drain cell manufacturers, offers High compressive strength, open structured, Durable, Lightweight, and plastic-friendly drain cells that are available in a variety of sizes and lengths to suit the clients' demands.
Different types of Drain cells that OCEAN WOVEN PVT. LTD. manufactures are namely Podium Garden Geo Drain Cell, Flexo Drain Board, Turf Grass Drainage Cell, Drain Cell for Parking and Gardening, Geo Drain Cells, Green Wall Grass Paver, and drainage mats.
The most usual and popular drainage cells are HDPE 13 mm flexo drain Cell, 20 mm drain cells, and 30 mm drain cell. They are the best Drain Cells Manufacturer in India and have a low pricing structure.
Ocean Global, based in New Delhi, was established in 1998 and is India's leading provider of eco-friendly engineering solutions. Ocean Global is known for its innovative geosynthetics and engineering solutions that handle a broad range of soil-related problems on construction sites.
2. Vikas Industries
Originated in the year 1974, Vikas Industries in Mumbai (Maharashtra, India) are rated as the renowned Manufacturer and Service provider of a specifically designed array of Drainage cells and drain cells.
To meet the diverse demands of the clients efficiently; they bring forth an intensive range of Drainage cells that are widely used in planter box and roof garden applications for encouraging plant growth. Their products are designed with superior quality components, using the latest cut edge technology under the supervision of artful professionals to meet the essential needs of the clients.
3. Singhal Industries Pvt. Ltd
Singhal Industries Pvt Ltd ranks number third and is a well-known manufacturer of Drainage cells, created with advanced technology. Their company is centered in Gandhinagar, Gujarat, India. They produce gentle packaging and lining products for such as chemicals, fertilizers, cement, fresh produce, sugar, firewood, riverbank protection, gas pipelines, etc. Their complete product range is marketed under the brand 'SINGHAL'. They have already made their presence felt on the different continents of the world.
4. Ovilite Industries
It is a well-known entity settled in the year 1997, in Delhi (India). Their company is a prominent manufacturer, wholesaler, and supplier of Landscaping, Waterproofing & Roof Insulation Coatings. Products they offer like Drain boards, Drain Cells, Geo Textiles, HDPE Grass Pavers, Cup drain (Flexo Drain cell), Waterproofing membranes, Insuplast, Vermiculite, etc.
These are designed and developed using the top-quality raw material, which is procured from some of the most reliable and certified merchants in the industry.
5. KGM Exports
Instituted in the year 2003, KGM Exports is a proprietorship firm and prominent & Leading Manufacturer from Faridabad that offer drain cells, drainage cell, and Drain cell.
Under the bright supervision of Mr. Gautam Bajaj (CEO), their company is functioning smoothly in this industry. He firmly implements business strategies, so that maximum output could be generated.
6. Imperial Overseas
Mr. Rahul Jha(Founder and CEO) founded the Imperial Overseas, Kolkata in 2007 are one of the prominent Manufacturers, Importers, and Exporters of a vast range of Drainage cells, Fiberglass Mesh, HDPE Geomembrane, etc.
Being Pioneers in the industry, they offer recycled polypropylene drainage cells, imptrex drainage cells, roof garden drainage cells, HDPE drainage cells, and 30mm drainage cells from India.
7. Prakash Techno Plast India Pvt. Ltd
The Hosur (Tamil Nadu, India) based company has a mission of developing a World Class Manufacturing brand of drainage cells, Geotextiles, Geosynthetics, and precision plastic components and molds. Use their top-quality Drainage Cells which are available in different types and forms. They are perfect for subsoil drainage applications. They eliminate the problem of cracking and leakages.
8. Adwyn Impex Private Limited
Adwyn Impex Private Limited can provide good quality Building & Construction and many other India Drainage Cell products, as they are a famous drainage cell Manufacturer. The warehouse of Adwyn Impex Private Limited is situated in New Delhi, India. Adwyn Impex Private Limited is an uppermost business in India that is functioning in the multinational market.
9. Virendra textiles
Virendra Textiles are well known for their range of Drain Cell. These are utilized in various processes during waterproofing, sub-surface drainage, and more. They are as well applied to terrace gardens, planters, landscape decks, pond filtration, and so-forth. The cells they offer are robust in construction ensuring they have a longer working life. Their collection of Drain Cell is also used in tunnels, landfills, roadways, etc.
10. Ginni Spectra Private Limited
Drainage cells, Drain cells, Drainage mats, Geo drain cells, and other products are manufactured by them. Their products are created following industry standards to suit the requirements of their customers.