Top 6 Drain Cell Uses And Benefits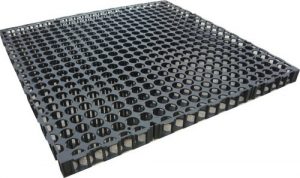 The Drain Cell offers a perfect solution for subsoil drainage that creates an aesthetically pleasing roof garden without any cracks or leaks. A drain cell for terrace garden is a great way to promote proper water drainage, prevent soil erosion and help excess water to effectively be channeled away.
The use of drain cell mat for terrace garden are increasingly common in rooftop gardens, green roofs, and other elevated gardening systems that cannot be drained using traditional methods. If you are buying a drain cell for your terrace garden there are a lot of things that come into play. And for someone who is buying it for the first time, reading this article will help make the best and most informed choice!
Table of Contents
Drainage Cell Systems provide a convenient solution for sub-soil drainage applications, letting for the creation of a successful Roof Garden without the worry of cracking/leaking. The drainage cells offer a consistent surface as well as an internal void space for optimum water drainage.
Drainage Cells are mostly consisted of recycled polypropylene and are repellent to bacteria and chemicals that are found in the soil. Landscapers can employ established plants on roof gardens that need soil depth.
What Is A Drain Mat For Terrace Garden?
A drain mat for terrace garden is a type of permeable matting used to support soil and plants while allowing excess water to drain away. The mat typically consists of a grid-like structure made of plastic or other materials that allows water to pass through while preventing soil erosion and promoting proper drainage.
In addition, drain mat for terrace garden is commonly used in terrace gardens, green roofs, and other elevated gardening systems where traditional drainage methods may not be feasible. They provide a stable growing surface, promote healthy plant growth, and help to prevent water damage to the underlying structure.
What Is The Use Of A Drain Cell Mat For Terrace Garden
If installed correctly a drain cell mat for terrace garden can change the entire functionality of the trace drainage system. When used in a landscaped roof, drain cells provide a drainage cavity and act as an additional layer of protection for the waterproofing membrane, eliminating the need to use gravel. A drain cell mat for terrace garden modules is easily interlocked in the same plane or at right angles to one another.
Top 6 Benefits Of Drain Cell For Terrace Garden
Here are some of the benefits of a drain cell for terrace garden:
Improving Drainage:

The mat helps to channel excess water away from plant roots, preventing water logging and promoting healthy growth.

Controlling Soil Erosion:

The mat provides a stable base for soil and plants, reducing the risk of soil erosion and washout.

Lightweight Design:

Drain cell mats are lightweight and easy to install, making them ideal for use in terrace gardens and green roofs where weight restrictions may be a concern.

Supporting Plants:

The mat provides a supportive surface for plants to grow on, promoting healthy root growth and preventing root rot.

Protecting Roofs and Structures:

The mat helps to prevent water damage to the underlying structure by channeling excess water away.

Environmental Benefits:

Drain cell mats are often made from recycled materials, making them a more environmentally responsible choice for terrace gardens.
Besides the above-mentioned benefits, drainage cells for terrace gardens have the advantage of not being damaged by thermal expansion in high summer temperatures.
With its unique design and voids, the drain cell for terrace garden system allows the heat to escape, protecting the quality of the entire drainage system and reducing the crack risks.
Why Is Ocean Geo Synthetics the Best Drain Cells Manufacturer In India?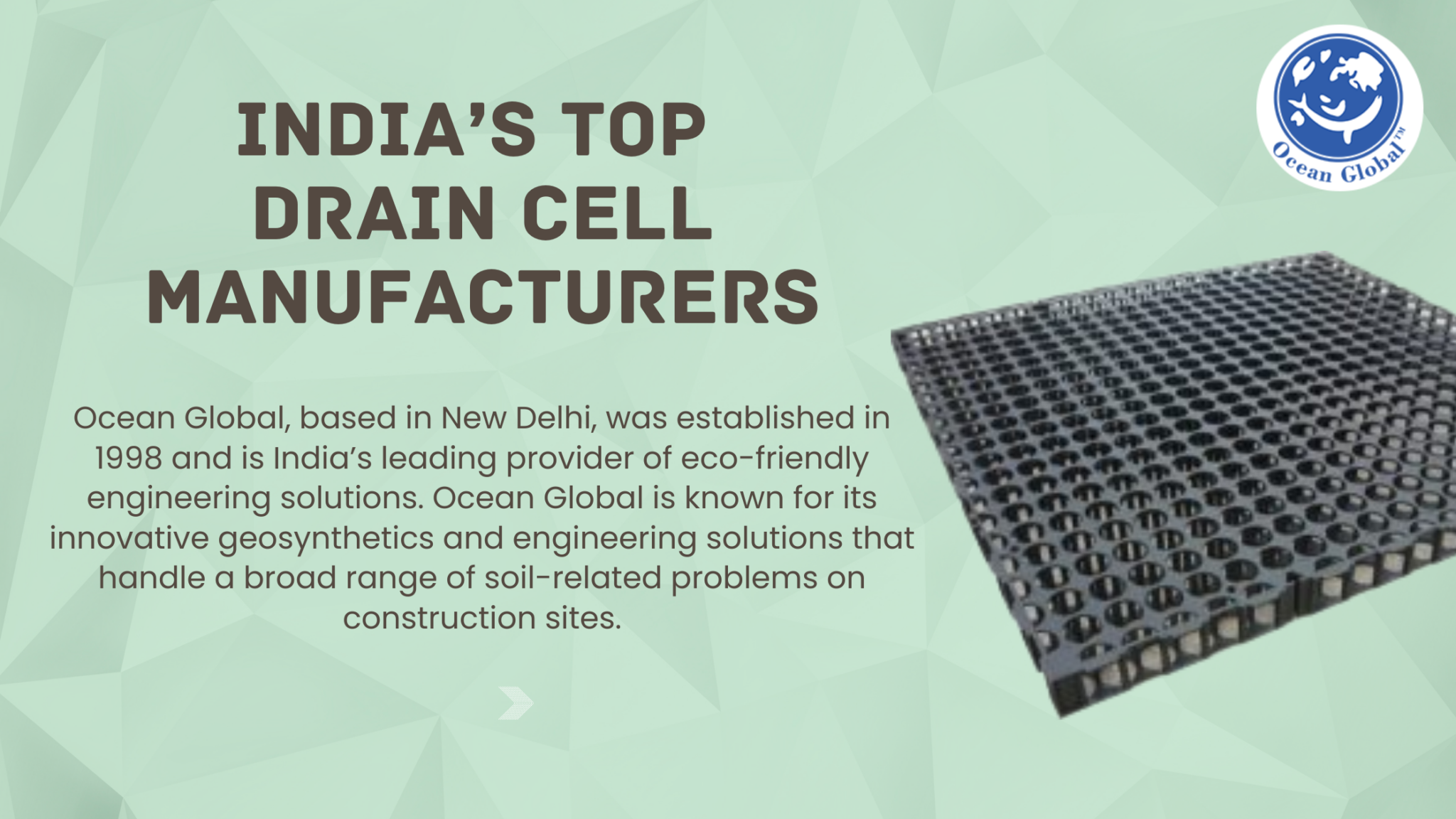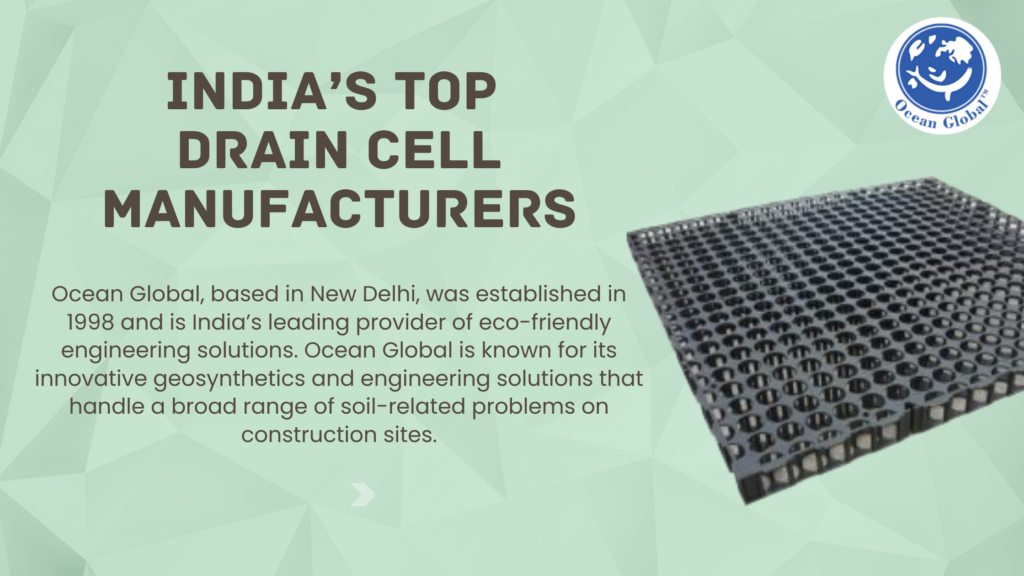 Ocean Global, one of India's top Drain cell manufacturers, offers High compressive strength, open structured, Durable, Lightweight, and plastic-friendly drain cells that are available in a variety of sizes and lengths to suit the clients' demands.
Different types of Drain cells that Ocean Non Woven Pvt. Ltd. manufactures are namely Podium Garden Geo Drain Cell, Flexo Drain Board, Turf Grass Drainage Cell, Drain Cell for Parking and Gardening, Geo Drain Cells, Green Wall Grass Paver, and drainage mats.
The most usual and popular drainage cells are HDPE 13 mm flexo drain Cell, 20 mm drain cells, and 30 mm drain cell. They are the best Drain Cells Manufacturer in India and have a low pricing structure.
The drain mat for terrace garden has become very popular recently for various reasons. Moreover, buying one for your terrace is made easy with Ocean Global as we are one of the most trusted geosynthetic material manufacturers and suppliers selling high-class drainage cell systems! We offer drain cells with high compressive strength, an open structure, durability, lightweight, and a plastic-friendly construction adapted to meet the needs of clients in a variety of sizes and lengths. Known for our innovative geosynthetics and engineering solutions, we also address a wide variety of soil-related issues on construction sites.
How Is A Drain Mat For Terrace Garden Manufactured?
The manufacturing process of a drain mat for terrace garden can vary depending on the specific product and the materials used. Generally, the mat is created using a molding process that forms a grid-like structure out of plastic or other materials. The structure is designed to allow water to pass through while providing support for soil and plants.
Frequently Asked Questions (FAQs)
How can you cut a drainage cell?
Using a circular saw or hand saw, cut the drainage cell where necessary. Ensure that 150mm of overlap is provided at the seams when placing the filter fabric over the drainage cell. Ensure that there is extra fabric around the drainage cell perimeter to protect it from the waterproof membrane and walls and then you can carefully cut it. 
What are the drain cells in gardening?
There are a variety of structural drainage modules available. Drain cells are usually made of 100 percent recycled polypropylene and are used to drain water underground in order to capture and discharge water at a high rate.
What is a drainage cell used for?
There are many applications where drainage cells are commonly used as a drainage solution including highway edge drains, roadways, retaining walls, driveways, basements, roof gardens, waterproofing abutment drainage, green roofs, saturated ground drainage, sports fields and more.
Is the drain cell for the terrace garden safe?
Yes, buying a drain cell for a terrace garden is safe and can last a long time. A great advantage of a thick plastic material drain cell is that it can be used repeatedly to construct rooftop gardens and balconies. This is the best way to get your dream garden started!
Is it possible to drain your garden naturally? 
Yes, there are multiple ways to naturally drain your garden but it can be time-taking. Though you can install artificial grass, land drains etc., for the same.