What is the Cost of a Gabion Wall?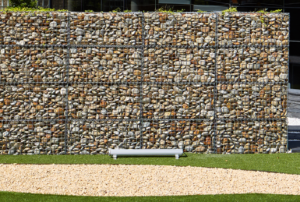 The term "gabion" arrives from an old Italian word, gabions, which means "big cage". Nearly 7000 years ago, early gabion-type structures averted the bank of the river Nile. In the middle ages, gabions were utilized as military forts. In earlier history, civil engineers have widely used gabions for the stabilization of banks, streams, highways, and erosion control of slopes. Against the banks of the River Nile, where they were constructed up to today, gabion walls are an aid for the landscape. It is utilized for thousands of years as a gravity-type retaining structure and builds an attractive, efficient, and cheap wall system.
Gabion walls are accomplished mainly for soil stabilization behind the wall, but they can also be done as a cover wall. The wall is made from gabion baskets that are deformed in one or more rows, based on the height of the wall. Baskets have a cage shape and are sealed on all sides. They are constructed from galvanized hexagonal meshes and broken rock that are placed in the baskets. Retaining structures are built up by stacking gabion baskets in a proper schedule and displaying an alternative solution for concrete structures in the area of soil stabilization.
Table of Contents
Benefits of Gabion Walls
• Aesthetic – Gabion walls look natural and by utilizing natural materials fit into the environment.
• Compatibility with the environment – Utilizing the material built by excavations the costs of acquisition and transport are significantly reduced.
• Is used as a cooling system in hot climate conditions and maintain passive cooling by air movement.
• Water penetrability – Gabion walls are penetrable and are not damaged by passing water.
• Adaptability of gabion walls can increase in the time since the vegetation fills voids and strengthens the wall structure.
• Longevity – Stone blocks are materials that are often used because of their longevity, endurance, and stability. Generally, the stone is selected because of aesthetic attributes or the possibility of excavation-produced material usage.
Soil movements don't negatively regulate gabion walls, which is an advantage concerning stiffer structures (reinforced concrete walls)
General gabion basket dimensions are 2,0 x 1,0 x 1,0 m. Galvanized mesh has a hexagon shape with the eye size X x Y = 8,0 x 10,0 cm.
How much does a Gabion Retaining Wall Cost?
Several factors will shape the cost of your gabion retaining wall, specifically:
Size and scale
Height
Stones applied
Structure and consultants fees
Excavation and drainage necessity
Of these, Gabion retaining wall price is based on two main factors – The stones you apply and the size and complexity of the wall. Recall in mind that building a gabion retaining wall is a labor-intensive exercise, hence; factor this into your budget. The type of stones will also influence the final cost, as will the gabion retaining wall design: a curved design tends to cost more than a straight one.