Best Geocell Sellers in North East India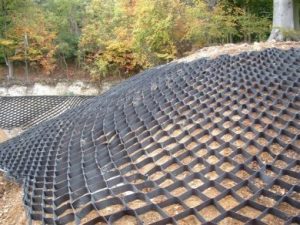 Geocell is a three-dimensional honeycomb-like cellular structure composed of a regular open network of synthetic strips connected by extrusion, adhesion, or other methods.
Geocells are cellular confinement devices designed for low-cost, long-term environmental stabilization and protection. Using cellular confinement techniques, soil compaction is effectively preserved, resulting in a stronger structure for both the infill and the pavement.
The Geocell's three-dimensional honeycomb design ensures its strength and longevity. This format creates a more efficient framework for load distribution.
The cell is made of high-density polyethylene (HDPE), which is used to stabilize weak or unstable soil. This is due to their ability to reduce soil particle lateral movement while vertically loading on the contained infill.
Geocells, in addition to providing stability, create a mattress effect and increase the material's flexibility. The cells have high elastic stiffness and tensile strength, which improves the product's load distribution.
Best Geocell Sellers in North East India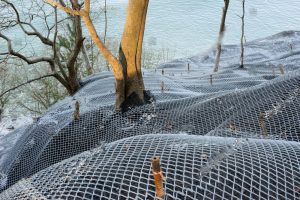 Ocean Global is India's leading producer and manufacturer of geosynthetic materials. Among the geosynthetics manufactured in Arunachal Pradesh, Assam, Manipur, Meghalaya, Mizoram, Nagaland, Sikkim, and Tripura are geotextile, geogrid, geocells, geomembranes, geocomposite, and geonet.
Their geocell panels are three-dimensional expanding panels made of polymers such as high-density polyethylene (HDPE), polyester, and others. During installation, the connecting strips act as the walls of a flexible, three-dimensional cellular structure into which specific filler materials are placed and compressed.
Constraining them with tensile reinforcement creates a free-draining system that keeps infill materials in place and prevents bulk movement. Soils and aggregate infill materials benefit from cellular confinement technologies in terms of structural and functional performance.
Ocean Global's Geocell technology is a critical component of the civil engineering and transportation industries. They manufacture Geocells in India to meet the changing demands of various industries while reducing costs. They are in high demand due to the obvious global expansion of infrastructure and roads.
Features
Ocean Global Geocells are compartment containers that are joined together to form a stiff foundation and can be used as a load transfer platform.
Ocean Global Geocells are effective in soil, particularly where heavy loading is anticipated. The confinement effect of Ocean Global Geocell improves granular soil shear strength.
The open surface design and high internal void volume of the Ocean Global drainage cell allow for the rapid capture and transport of large volumes of water. Plant and grass roots can take this water via capillary action and aid in the growth of these plants.
Ocean Global Geocell prevents lateral soil from spreading during load application, increasing the soft soil's strength and stiffness.
Ocean Global Geocells are three-dimensional honeycomb cellular structures that, when filled with compacted soils, sand aggregate concrete, and other fill materials, form a confinement system. It is extruded from high-density polypropylene strips that are ultrasonically welded in series and expanded to form stiff (textured and perforated) walls of a flexible 3-D cellular mattress.
FAQs
What are the benefits of using Geocell?
Using Geocell can provide benefits such as improved load-bearing capacity, reduced soil erosion, increased slope stability, and enhanced pavement performance.
Can Geocell be used in both soft and hard soil conditions?
Yes, Geocell can be used in both soft and hard soil conditions by selecting appropriate cell depths and panel thicknesses to meet the project requirements.
Is Geocell environmentally friendly? 
Yes, Geocell is environmentally friendly as it is made from recyclable materials and promotes sustainable construction practices.