Flood Protection in Bihar – Case Study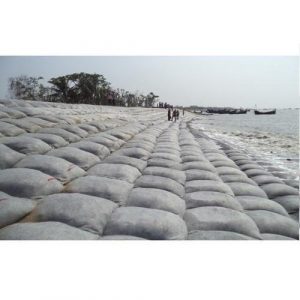 Protecting people, critical infrastructure and the environment is paramount in the event of floods and natural disasters. Drinking water, telecommunications, hospitals, and electricity are one of the most important infrastructure assets that need to be carefully protected in the event of a disaster. The flooding of contaminated factories can have catastrophic consequences over the years to come. Factories that contaminate nearby rivers and lakes must be prepared to contain leaks to minimize potential damage.
Flood protection and relief are a particularly important part of climate change adaptation and resilience. Both rising sea levels and changing weather (climate change is causing more intense and faster precipitation) mean that flooding of human infrastructure is of particular concern around the world.
Product – Ocean Geobags
Quantity – 1.5 L Bags
Location – Bihar
Problem
Bihar is one of the most flood-affected states of India in the flooded areas of the Gangabra Maputra Basin. Floods have been an integral part of a great civilization beyond time and space. According to the United Nations, in the 20 years from 1995 to 2015, 2.3 billion people were hit by 3,062 flood disasters and 157,000 died. In 2017, floods and other floods affected more than 15 million people in Bihar. And more than 8 million people have already been affected by the floods this year, adding to the misery and suffering that COVID19 has unleashed, as well as forced blockades that are ruining their lives.
Bihar is one of the most flood-affected states of India in the flooded areas of the Gangabra Maputra Basin. About 73% of the land is flooded. This is about 17.2% of the total flood-prone area of ​​India. 65% of the Bihar River basin is in Nepal and Tibet and 35% in Bihar. The flat terrain of Bihar has an average annual rainfall of about 1200 mm and is rich in sediments, making Bihar even more prone to flooding.
The Bihar Rivers are the Gagara, Gandak, Budi Gandak, Bagmati, Kamala, Butanibaran, Koshi, and Mahananda rivers, which cause havoc during the Monsoon period, so the Koshi River is "Bihar's sorrow." Is considered. The 2007 floods in Bihar were the worst floods Bihar has ever seen, with more than 6 billion property losses affecting about 10 million people. The recent floods in Bihar in 2019 affected about 13 districts, affected more than 8 million people, and caused significant property losses.
Solution
Both traditional and modern flood strategies make their deployment difficult. Gebags are excellent alternatives to replace such expenses procedures. Many Geobags manufacturers in India, such as the Ocean Synthetics, produce high-quality geobag that can be used to build the wall of the sand pack to redirect flood water or slow the river. These sand-filled geobag walls are not only cheap to build but are more convenient to do not damage existing structures and buildings. These low-cost, simple assembly walls can also be used with rainwater collection systems. Geobag is especially important in the construction of harbors, dams, harbors, and other water-related structures. They provide strong, elastic, durable, and robust resistance to heavy water flows. In addition to building these structures on and near water bodies, one of the most important aspects of preventing water from infiltrating the pathways of these structures is resistance. In areas with strong water currents, geobags can also be used to further protect and increase the strength of the dock foundation.