Flood Risk Management with Geotextile and Geotube Technology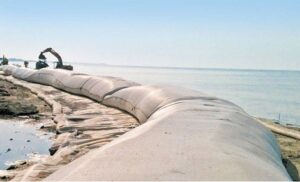 Due to current climate changes, the annual flood increment rate has enhanced tremendously in various countries. Relatively 3mm yearly, the sea level is rising due to a billion tons of ice melting yearly.
Due to the rise in sea levels all over the world, coastal erosion has become serious regard, causing great damage to public properties & coastlines near the world. To avert the exacerbation of erosion hazards, rapid coastal developments were proposed.
Organization of Geotextile suppliers in India, to address these regards, both structural & non-structural measures have been adopted
Table of Contents
Moderation of flood risks via structural flood measures for example:
Dams

Oceanic construction

Absorptive pavement

River embankment

Flood-obstacles
Moderation of flood risks through non-structural measures includes:
Flood prospect management

Urban structure

Flood peril

Community connection

Official devising

Land utilization
As a non-woven geotextile manufacturer in India, in this blog, we are going to feature flood risk management utilizing geotextile & geotube technology.
Prompt growth in development & renovation emphasizes the significance of coastal construction. Now, structures in coastal areas are constructed bearing quality & ecological operation in mind.
In such areas, this is to lessen environmental threats. In current times, the unavailability of raw rock & traditional forms of the river has improved the cost of construction & conservation of coastal structures.
Thus, the requirement for less-expensive materials and systems as alternatives has been initiated. Concrete systems & other traditional rubbles are now replaced with cheaper alternatives such as geotextile tube technology.
Geotubes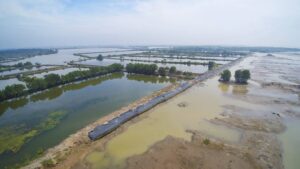 The Geotubes are as well known as geobags — utilized for sludge dewatering projects of different sizes because of their simplicity and low-cost aspect.
They are containers that are hydromechanically filled with a slurry mix of sand and water. The hydraulic pressure assists to transport the sand along the inside of the tube, while the water will dissipate via the permeable engineered fabric, further the sand will settle out within the container by gravity.
The Geotube system can be applied in various industries, containing shoreline protection, land improvement, island establishment, wetlands establishment, construction platforms, revetments, dykes, groins, and offshore architecture.
The system doesn't function with belts, gears, or arduous mechanics. As well, they are available in distinctive sizes, based on the volume and space needs. They can even be mounted in mobile roll-off containers that can be transported near your property as necessary.
Environmental Benefits of Geotube Technology Over the Conventional Method of Construction
Geotextile tube installation is not only an alternative construction technique but as well as the most result-oriented solution on the planet. It boasts different beneficial aspects, creating it worthy of consideration.
For example, geotextile installation guarantees positive environmental impacts as it reduces CO2 emissions at the time of construction operations. A geotextile tube breakwater would as well reduce dredge disposal volume as well as excavating & rock conveyance to the site.
Functions of geotextile:
Geotextiles have a sort of application, for instance, drainage, safety, reinforcement, isolation, and durability.
1. Filtration
When water goes from the fabric soil sheet into the gross element soil sheet, the relevant wind absorptive and water absorptive of the vital nylon thread hooking geotextile are applied to grow the water.
And stop soil elements, stones, and dust clouds to control the solidity of water and soil put up. The material of filtrations can weave or nonwoven allowing the water force when containing soil elements.
2. Isolation
The isolation act proposes the geotextiles to isolate two elements ourselves with other features: ignoring communicating with both and incapable of the honesty of many materials and functional morality.
3. Drainage
Geotextile is the finest water-bearing substance as a drainage passage can jointly conduct the water interior and soil function in the geotextile, ahead with the sense of attentively removing the soil.
4. Protection
When water passes through the soil, its extent broadcast the intensive pressure the soil presence harm by an external force and avert the earth. Who can include Soil fall issued by temperature crush and floor water copy?
5. Reinforcement
Geotextile is locating the interior of the soil as a reinforcing element joined with mud to form a complex shape. Examine the frameless ground. The power and distorted characteristics of reinforced thorny soil are seriously better.
Generally speaking, the pros of geotextile walls are as follows:
Diminish the disturbance of biota due to repair & maintenance at the time of the lifetime of the structure
Diminish fuel consumption & transport of excavated component
Minimize Negative impacts on extraneous species
Reduces all over carbon dioxide emissions in transport & placement functions
Conclusion
Geotextile fabric synthesizes in India, Correlating geotextile tubes and conventional methods, the geotextile tube system produces over 85% less carbon II oxide when contrasted with traditional rock structures.
Hence, utilizing geotube technology is a more economical approach to breakwater construction. More so, it offers a better environmental alternative to traditional breakwater systems.