What is the Best Pond Liner to Use?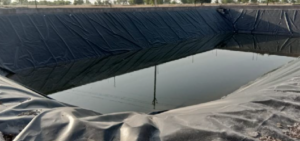 It is obvious that you want your pond to be in its best shape, retain the existing water, keep it free from debris and other sediments, and most importantly, stop any kind of leakage or seepage of water from the pond.
And for this to happen, it is extremely essential that you use the best pond liner for your pond that would last you for ages.
However, many people get confused while choosing the right pond liners for their pond, due to the availability of so many in the market. Then how to make the right choice?
Well, in order to relieve you from your confusion, here in this blog, we will discuss the various types of best pond liners along with their pros and cons to give you a brief idea as to what each pond liner is made of and whether you should go ahead and get it for your pond.
Table of Contents
The Different Types of Pond Liners
Here are the different types of best pond liner, based on the materials that they are made of.
HDPE or the High-Density Polyethylene Pond Liners
These are pretty much affordable and cheaper as compared to all the available pond liner materials. This material is mostly rubber-like, basically, a polymer made from Thermoplastic, and widely used in larger ponds and lakes.
Advantages: HDPE is strong, cheaper, durable, and can be both soft and hard pond liner, and also be easily installed and handled. It is both UV and chemical-resistant.
Disadvantages: it is a difficult option to try when you are trying to DIY your own pond, as it is pretty stiff and difficult to shape.
PVC Pond Liners
PVC pond liners are pretty much cheaper just like the HDPE liners, and they are vey common as well.
Advantages: They are incredibly easy to handle, resistant to chemicals and can be flexible in some forms.
Disadvantages: PVC pond liners can be harmful for the fish in the pond and also not a great option if you are looking for more flexibility. They are pre-shaped pond liners that are not resistant to UV, so you need to provide more protection layers.
RPE or Reinforced Polyethylene Pond Liners
This one is another common type of pond liners used by many people.
Advantages: it is extremely pliable, and water resistant. It is also UV, chemical and puncture resistant, more durable, and easy to install pond liner that is easy to seam as well.
Disadvantages: There is no strong proof about its longevity and is not as easy to handle compared to other pond liner materials. Also it is relatively expensive.
EPDM or Ethylene Propylene Diene Monomer Pond Liners
This is a type of rubber that is more pliable and flexible, generally used in construction and particularly roofs.
Advantages: it is extremely pliable, strong, easy to shape, resistant to temperature and weather, and your fish would be extremely safe in this pond liner.
Disadvantages: This is an expensive option as compared to HDPE or PVC pond liners. Also, you will find it extremely difficult to seam and put the pieces together. And careful handling is a must.
What is the best pond liner material to be used then?
Now, if you compare all the different types of Pond liners, it is certain that you would find one better than the other in some aspect or the other.
The only thing you should remember before buying any particular pond liner is its longevity, as once you are done with putting up your pond liner, you might not have to look at it again. There are many factors that you would have to decide upon such as the shape of your pond, is it a DIY project, or is it a large pond that needs joining multiple pieces together.
Ocean global is here to assist with all your queries as regards your pond liner and help you make the right choice at the most affordable and best pond liner cost.