Irrigation Department Work Project at Patna – Case Study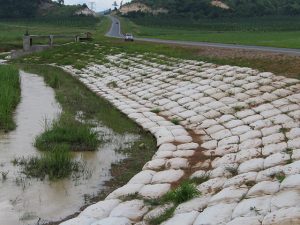 Irrigation is the process of supplying a controlled amount of water using artificial means such as pipes, ditches, sprinklers, and so on. The primary goals of irrigation systems are to aid agricultural crop growth, maintain landscapes, and mitigate the effects of insufficient rainfall, among other things. As a result, irrigation systems are extremely important.
It is also a method of meeting plant or crop water requirements because they require it as an essential resource for growth. At the same time, it helps to provide plants with the nutrients they need for development and growth, as well as achieve high yields by allowing roots to penetrate dry fields.
Product – Ocean Geobags-300 GSM
Quantity – 20000 Bags
Location – Patna, Bihar
Problem
Unexpected excess rainfall in June in Bihar, attributed to climate change, has caused problems for marginal farmers, as his paddy seedlings were completely destroyed due to waterlogging in his field.
Farmers in Bihar rely heavily on monsoon rains for Kharif crops, primarily paddy, a water-intensive crop. Farmers are having difficulty preparing seedlings due to excess rainfall in June, and additional excess rainfall in July will make paddy transplanting difficult.
Surplus rainfall in the catchment areas of major rivers in the state and neighboring Nepal, including the Gandak, Burhi Gandak, Bagmati, and Koshi, has resulted in floods in nearly a dozen districts. Thousands of people have been displaced from hundreds of marooned villages and have been forced to seek refuge on nearby high-rise embankments and national highways.
Solution
Geobags is a low-cost geotechnical material that is also energy-efficient and environmentally friendly. Furthermore, the Geobags have the ability to resist ultraviolet rays. Geo Bags are a type of environmentally friendly synthetic material that has high strength, UV resistance, freeze-thaw resistance, and acid, and alkali resistance.
The Geobags are moisture-resistant, do not absorb water, are not damaged by moisture, do not deform, and are insoluble in polluted liquids. It is an effective tool for environmental protection. The Geobags have good physical and chemical functions; such raw materials can withstand ultraviolet corrosion, and the geotextile of this material will not have any negative effects on the substances in the soil, nor will it degrade, and it can withstand insects. rust, and even aging.
Geobags are popular because they have the function of saving energy and protecting the environment. The country is now paying special attention to environmental protection in all walks of life, and the Geobags adheres to environmental protection standards. Geobags are non-toxic, acid and alkali-resistant, corrosion-resistant, and soil impermeable, but they can penetrate water quality, making them more suitable for plant maintenance and beautifying vegetation.
Geo bags can be used in place of other geotechnical materials such as cement. The cost of cement is high, and the use of Geobags can save money while producing the same effect. The Geobags are water permeable but not soil permeable, providing good protection and stability. Geo bags provide slope protection. Greening is an important construction technique in barren hill restoration, mine restoration, highway slope greening, riverbank slope protection, and inland river regulation.