Retaining Wall With Geotextile and Geogrid Reinforcement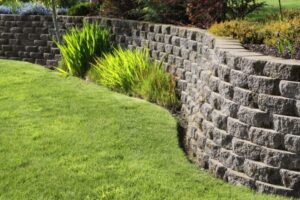 It is becoming more crucial to employ conservative techniques when constructing new projects. This is to make sure that high reliability and durability. Arduous artificial slopes and geotextile/geogrid reinforcement slopes are usually used to retain walls as they offer stabilization.
It is displayed that the woven geotextiles and geogrids enhance the internal stability of structures via providing internal drainage for Geosynthetic reinforced soil (GRS) walls with poorly draining marginal backfill.
Based on the wall height and site conditions, retaining walls frequently require soil reinforcement. To the best of our observation, geogrid or geotextile installation can be utilized to reinforce soil behind retaining walls.
Table of Contents
How to Retain Walls with Geogrid and Geotextile Reinforcement
As the demand for retaining walls continues to exceed, different solutions are arriving into play. As an outcome, the knowledge of utilizing these systems in innovative new methods continues to grow in ground engineering.
There are loads of geotextile installation solutions for creating green- and stern retaining walls.
1. Retaining wall with reinforced soil, cross-section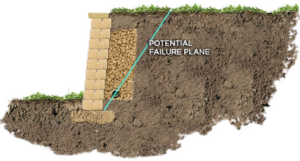 Geogrid soil reinforcement is applied if the weight of the wall units alone cannot resist the force of an unstable soil wedge or any load above it.
Horizontal geogrid layers provide tensile strength to hold the reinforced soil mass collectively.
As an outcome, the geogrid-reinforced soil mass becomes part of the retaining wall structure, providing more size and weight that the system requires to resist pressures from behind it. More layers of stronger geogrids are introduced For high walls to hold the reinforced soil mass internally.
As the wall gets higher longer geogrid lengths need to be initiated to increase the size of the geogrid-reinforced soil mass.
2. VERSA-Grid soil reinforcement
VERSA-Grid is featherweight, flexible, and simple to install. It comes in multiple strength categories commonly used for landscape and commercial walls. VERSA-Grid has no memory so it lays flat after being unrolled.
VERSA-Grid 1.5 is utilized for some residential walls, but just for walls up to 6 ft. tall. It is available in 22 sq. yd. per roll (4-ft. wide by 50-ft long rolls).
3. Retaining wall with frameless soil, cross region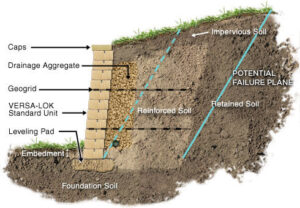 Retaining walls with unreinforced soil hold back likely unstable wedges of soil. More loading, poor soils, or slopes on top of the wall or bottom of a wall will lessen the maximum stable unreinforced height.
So depending on the kind of unit used, soil type, and diverse site conditions, unreinforced walls can be 3-4 feet high in the best conditions.
Classic Applications of Geotextile and Geogrid Reinforcement
Geogrids can be utilized in a variety of applications as well as a variety of finishes (like hard facing, gabions, vegetated, etc.) to meet even the most demanding aesthetic requirements. Check out the below-cited applications:
Retaining walls

Slope reinforcements

Green walls

Steepened bunds and embankments

Reinforced earth structures

Steepening bunds

Veneer slope stabilization
Major Pros of Geotextile and Geogrid Reinforcement
Reduced land take

Environmentally beneficial walls

SuDS compliant solutions

Steeper walls

Reduced material import

Single source for supply, design, installation, and maintenance

Bespoke planting
Wall Heights That Need Geogrid Soil Reinforcement
Commonly, most soil reinforcement units require geogrid for walls taller than 3-4 feet. For now, geogrid can be used to reinforce shorter walls in case there are poor soils, loading over the wall, steep slopes close to the wall, or tiered walls.
Nonetheless of the wall heights (if tall or short), it is advised to compensate for if tall or short).
Auspiciously, woven geotextile installation is relatively cost-effective for reinforced retaining walls compared to the expenses for conventional retaining walls.
Conclusion
Geogrid is a geosynthetic material composed of polymers, that is installed in horizontal layers b/w wall courses and extends into the soil beneath a wall.
The design concept for geotextile reinforcement is such that it exceeds a wall system's stability and mass, and as well stabilizes the soil.
Geotextile-reinforced structures have proven to flourish over a long time. In terms of assurance and accuracy, the geotextile wall construction method is broadly used and generally accepted for both less relevant and Great-profile structures.