Landfill Project At Dibrugarh, Assam – Case Study
ENVIRONMENTAL/ LANDFILLS
Product: HDPE Geomembrane
Problem
The Municipal Corporation of Assam's vision is to make the state dynamic, lively, self-reliant, and self-sustaining, with all basic services, in order to create a better quality of life for inhabitants while also being environmentally friendly. One of the primary services that the Municipal Corporation of Assam is responsible for is solid waste management. The Conservancy Department and the Solid Waste Management Department are in charge of the city's cleanup efforts. On a daily basis, the Conservancy Department is in charge of collecting biodegradable garbage from residents, whereas the Solid Waste Management Department is in charge of secondary storage, transportation, processing, and final disposal of solid waste.
The Dibrugarh district, which has only one sub-division, is located in Assam's eastern region. Dhemaji district and a portion of Lakhimpur district are to the north, Sivasagar district and Arunachal Pradesh are to the south, Tinsukia district is to the east, and Sivasagar district is to the west. The district covers 3381 square kilometers.
Dibrugarh town has no sewerage infrastructure, and a large percentage of the population lacks access to appropriate sanitation services. Individual septic tanks or direct discharge into drains and water bodies are used to dispose of the waste, contaminating the city's water sources. The quality of groundwater in the DMB's densely inhabited areas has been found to be contaminated, particularly in Naharkhatia.
It has serious problems with diseases brought on by sloppy solid waste management. The Municipal Corporation of Assam picked a remote spot in Dibrugarh District for a landfill site for creating a secure & sorted Engineered Landfill in light of the environmental hazards of unregulated solid waste dumping & protection of the environment.
Solution
HDPE geomembrane for landfills is only one of the many applications for which HDPE geomembrane can provide an anti-seepage liner system for the civil engineering sector. High-density polyethylene and medium-density polyethylene are the primary raw materials used in HDPE geomembrane. Smooth surface geomembrane and rough surface geomembrane are the two varieties of HDPE geomembrane liners.
Geomembrane liners made of high-density polyethylene (HDPE) are commonly employed in municipal solid waste landfills as part of a barrier system at the landfill's base. A gravel leachate drainage layer, a protective layer, and a composite liner made of an HDPE geomembrane and either a geosynthetic clay liner or a compacted clay liner are commonly used in a landfill with a single liner. The principal barrier to leachate migration to surface or groundwater is the composite liner. A recent study on the leakage of fluids and gases through composite liners has been extensive.
The specific HDPE geomembrane for landfills has higher tensile strength and stretch than standard geomembrane. The pace of growth is faster, the acid resistance is better, and the geomembrane can be utilized for a longer period of time. The unique HDPE geomembrane for landfills is more inclined to utilize the rough surface geomembrane with a slipping effect due to the increased rain.
HDPE geomembrane liners have anti-seepage properties, high chemical resistance, amazing stress cracking ability, low permeability, superior UV resistance, and low-temperature resistance to brittleness, among other properties. As a result, HDPE geomembrane is the most extensively utilized anti-seepage bottom pond lining and covering material for a wide range of applications, including landfill projects, biogas digester projects, sludge, and sewage treatment facilities, and evaporation ponds for animal manure facilities.
The capacity of the landfill required 18200 sq m of 1.5 mm HDPE Geomembrane. The scope of work for Ocean Global included the delivery, installation, and joining of a 1.5mm thick Geomembrane at the bottom and slopes. 97.5 percent Polyethylene and 2.5 percent Carbon Black are found in the Geomembrane. This membrane is resistant to cracking in the environment. Its strong UV resistance allowed it to be used in both indoor and outdoor settings.
The Physical & Mechanical Properties of the membrane used are as follows:
Density-0.94g/cm3
Strength at break-43 N/mm
Elongation at break– 700%
Tear Resistance-187 N
Puncture Resistance-530 N
Roll Size: 7mX 140m
The Construction Process
The client offered certain layers to achieve the goal of preventing leachate from seeping from the bottom of the landfill. A 1000mm embankment, 1.5 mm thick Geomembrane, 300mm coarser material, and 2 mm drainage aggregate made up the layers. The top of the Geomembrane was fixed with a layer of cement concrete and a 3m lap.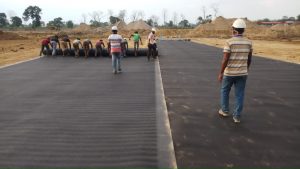 Leachates and landfill gas were collected and disposed of using a network of pipes and two sumps. To avoid rainwater seepage, a proper drainage system was built and installed across the landfill. This can also help to cut down on landfill leachate production.