Role of Geobags in Environmental Engineering
The role of Geosynthetics in civil and environmental engineering is not new. They have been around for more than three decades now with widely established and acknowledged benefits. With innovations and advancements in technologies, the geosynthetics global market size is increasing, and how! The long lifespan, durability, and multifaceted uses of geosynthetics make them popular materials to work with, not to forget the low cost. One such all-in-one geosynthetic is the geobag, deployed in erosion control, drainage, and filtration.
They are bags made of woven or non-woven geotextiles. These woven geobags and non-woven geobags are typically filled with sand and hence referred to as Geotextile Sand Containers (GSC). The robust geotextile sand containers primarily serve as coastline and riverbank protection, acting as a stabilizing and defensive barrier.
Made of polyester, polyethylene, or polypropylene, the geobags effortlessly substitute the traditional marine protection. Easy to install and maintain, these reversible shore solutions have minimal, if any, impact on the environment or the aquatic life and vegetation. Technically too, the geobags are far more efficient than their conventional counterparts.
The durability assessing factors for a geobag are its mechanical properties of wide-width tensile strength, elongation, seam length, abrasion resistance, tear strength, puncture resistance, and of course, UV stability.
The prefabrication requirements like the number of stitches and type of thread for stitching, the geotextile, and the physical properties like the thickness, mass, dimensional requirements, and mass of sand to be filled differ as per site and project specifications.
The geotextile sand containers usually come in sizes of small, medium, and large. While the small GSCfinds use in temporary structures, the medium-sized ones in milder conditions and emergency works, and the large-sized ones find use in more permanent structures. The bigger the size, the better is their durability and lifespan, even under harsh conditions.
Where are Geobags used?
Geobags have numerous benefits owing to their versatility and robustness. When used for erosion control, they restrict the loss of sand through tidal and wave currents. As shoreline protection, they resist the erosive forces of the waves. They also help with wave dissipation reducing the size and force/energy of waves. Being environment friendly, they allow for vegetation, which is of vital importance to the diversity of the natural environment.
These engineered containers protect coastal and inland waterways withstanding coastal abrasion and even UV damage. They are soft armored structures that provide a stable base for marine growth. The GSCfinds use in permanent or temporary installations.
Temporary structures: Include Groynes, sea walls, riverbank protection.
Permanent structures: IncludeSea walls, revetments, slope buttressing, groynes, breakwaters, dykes, reefs, scour protection, dunes, and more permanent riverbank protection.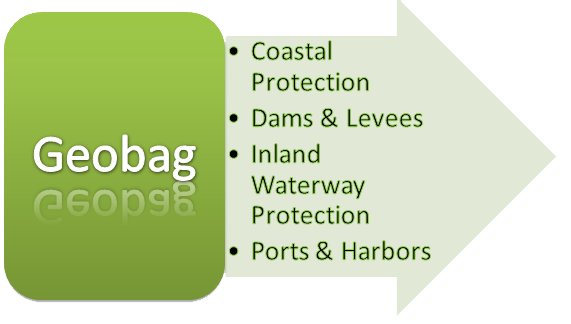 Advantages:
Flexibility: In terms of its use at groynes, reefs, dunes, dams, etc.
Filling:On-site filling with gravel or sand makes it far more convenient.
Environment: Eco-friendly and environmentally safe.
Weights and Measures: Available in varied sizes and shapes, specific to design requirements.
Cost-Effective: Highly cost-effective when compared to conventional materials, both in terms of production and installation.
Technology and durability: They are engineered for strength and durability with double stitching and stringent quality control.
Logistics:Rapid mobilization during emergencies and filling them up on the site makes it a breeze to transport.
Ocean Geosynthetics is engaged in manufacturing and supply of superior quality Geobags made from best in the class raw materials and state-of-the-art technology. What is more, they are environment-friendly, easy to use, and economical.