Role of Geosynthetics in Tunnel Engineering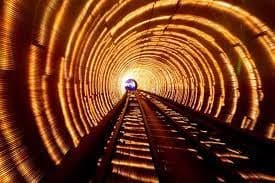 Tunnels are defined as underground passageways. They are civil engineering structures passing through hills, rocks, or soil. Primarily, tunnels facilitate the transportation of passengers, freights, sewage, water, etc. Tunnel engineering is completely underground without disturbing the surface. The first tunnel dates back to the Egyptian and Babylonian eras about 4000 years ago. The tunnel connecting the royal palace to the temple was brick-lined and 910 m long. The role of geosynthetics in tunnel engineering is manifold. An absolute essential in engineering, geosynthetics find applications in transportation, geotechnical, and geo environmental engineering. There is heavy use of geosynthetics in tunnel engineering.
Table of Contents
Constantly striving to serve you better, you can count on Ocean Geosynthetics for all your tunnel engineering needs
Some interesting tunnel facts
Tunnels are engineering marvels that facilitate transportation. The Gotthard Base Tunnel running under the Swiss Alps is the world's longest and deepest tunnel. Considered a civil engineering triumph, this tunnel connects northern and southern Europe. The Seikan Tunnel in Japan is yet another record-setting longest railway tunnel of 53.85 km.
What is tunneling/tunnel engineering?
Constructing a tunnel, the science and engineering associated with it is what tunneling or tunnel engineering is all about. Various construction methods of tunneling include:
Cut and cover tunneling

Bored tunnel or mechanized tunneling construction is in situ without removal of ground above using the TBM or tunnel boring machine

Drill and blast, which is the conventional tunneling method
The basic concept of tunneling or tunnel construction involves three steps:
Excavation (drilling/blasting)

Application of shotcrete (sprayed concrete) to protect and reinforce with rock bolts.

Concrete layering. Since tunneling is underground level, and the natural ground has some amount of groundwater, it is essential to provide waterproofing and a drainage system. In conventional tunnels, between the shotcrete and concrete layers is the waterproofing membrane and drainage.
Role of Geosynthetics in Tunnel Engineering
The two significant roles of geosynthetics in tunnel engineering are drainage and waterproofing. There is extensive use of geomembranes and geotextiles in tunneling. When it comes to drainage, the capacity of geosynthetics deteriorates with issues like clogging, ground load, etc. Improper design and implementation lead to failures impeding the long-term performance of geosynthetics.
Hydraulic Tunnels: Geomembranes find extensive use as a liner in hydraulic tunnels. Hydraulic tunnels that convey water are lined with steel, cast in situ, or shotcrete to provide structural stability and prevent water seepage. Over time, with use, voids and cracks develop in conventional linings, and geomembranes serve to minimize liner deterioration. Geomembranes are the most cost-effective and efficient solutions for waterproofing in the tunneling industry.
Transportation Tunnels: Depending on groundwater ingress, tunnels are either waterproofed (sealed) or drained. The entire tunnel behavior is dependent on the project in question, the surrounding environmental impact, and the handling of groundwater. Geosynthetics help with both the waterproofing as well as drainage/filtration.
Advantages of using Geosynthetics in tunnel engineering
The low permeability of

geotextiles

and geomembranes is excellent for waterproofing.

Easy to deploy in any configuration, horizontal, vertical, or overhead, and with high elongation strength, they bridge old and new cracks.

Resistant to swelling, rotting, aging, puncture, and chemicals, they combat various weather conditions.

The ease of installation is also time-saving.

There is no cross-sectional area reduction since geomembranes are thin and do not compromise the tunnel diameter.

Highly durable and reliable even under high hydraulic pressure

Geosynthetics also help with the rehab and repair of old tunnels
With stringent product testing and extensive research in place, Ocean Geosynthetics is the brand you can trust for projects requiring geosynthetics in tunnel engineering. Contact us, to discuss your next project.