Top 10 Manufacturers of GeoMembrane in India
09 Dec

Top 10 Manufacturers of GeoMembrane in India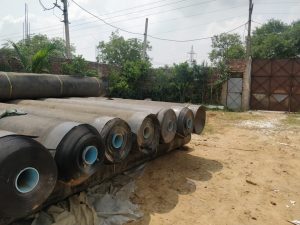 Geomembranes are synthetic membrane liners or barriers that are used to manage fluid flow in a man-made structure, system, or project. They're created from thin, continuous polymeric sheets that are occasionally made by soaking geotextiles in asphalt, elastomer, or polymer sprays. As a result, their geotechnical engineering and other industrial client applications are limitless.
Geomembranes are utilized in the garbage sector, as well as in environmental, hydraulic, transportation, and oil and gas applications. Continuous polymeric sheets are the most prevalent form. For further strength and longevity, bigger geomembranes are thermally or chemically welded together at the seams. The geomembrane's size is adjustable, so it may be as tiny as a home fish pond or as huge as a football field if needed.
Top 10 Geomembrane Manufacturers in India
1. Ocean Global
Ocean Global was founded in 1998 in New Delhi and is India's leading supplier of environmentally friendly engineering solutions. Ocean Global is known for its ground-breaking geosynthetic and engineering solutions that address a variety of soil-related issues on building sites.
Ocean Global creates environmentally friendly and innovative geosynthetic membranes, often known as geomembranes, that operate well under extreme situations. Geomembranes are primarily used to confine hazardous wastes, support the soil, secure landfills, store water, and avoid liquid pollution.
Ocean Global, based in India, produces extremely flexible HDPE geomembranes that are simple to work with, have a long lifespan, and are, most importantly, aquatic safe. Their liquid-tight geomembranes meet and surpass the toughest liquid-containment requirements. Their Geomembrane coverings are high-performance membranes with a long lifespan. UV radiation, oxidation, and other weather impacts are not a problem for waterproof geomembranes.
2. Gayatri Polymers & Geosynthetics
Gayatri polymers & geosynthetics is a devoted team of civil engineers, polymer engineers, and geotechnical specialists dedicated to providing world-class civil engineering and environmental solutions employing spatiality geosynthetics products.
They adhere to international standards and have a fully functional in-house testing laboratory to provide severe quality controls at all stages of manufacturing, post-production, and shipping.
3. Sargon Geosynthetics Limited
Sargon is a fast expanding company dedicated to providing industry-leading ground engineering solutions with a focus on infrastructure development and environmental protection. Sargon is a firm that listens to its clients and strives to give them the best possible solutions. Sargon Geosynthetics Ltd. is an ISO 9001:2000 accredited company having partnerships with some of the world's major geosynthetics producers.
They provide a comprehensive selection of world-class geosynthetic materials that have been effectively employed in a wide range of applications and have exceeded our clients' expectations. Their product line comprises the following: HDPE (Smooth & Textured), VLDPE, LLDPE, and various variations of geomembranes Asphalt Reinforcement Grids, Drainage Composites, and other geocomposites.
4. GSE Environmental
GSE Environmental has developed a reputation for dependability by committing to providing consistency in quality, affordability, and protection to our global customers. They are committed to innovation and quality, and this, along with their experience and flexibility, enables them to work with customers to produce a customized, purpose-fit solution.
GSE manufactures a comprehensive range of high-density polyethylene (HDPE) and linear low-density polyethylene (LLDPE) geomembrane products with a black, green, or white upper surface and a smooth or textured single or double-sided surface using the finest quality resins. All of GSE's geomembranes come with a conductive lower surface to enable successful leak testing of the geomembrane once it's been placed.
5. Seela Enterprises
Seela Enterprises are turnkey suppliers and installers of HDPE, LDPE, and PVC Geomembrane liners for secured landfill applications, as well as LDPE UV film for greenhouses and cotton canvas tents during natural disasters.
They sell LDPE films, HDPE films, both virgin and recycled, geotextile, geocell for anchoring, geocell composed of natural fibers such as jute and coconut, cotton canvas tents, and woven HDPE tarpaulins. They work with geotextile, which is an imported product. They also sell chemically treated mosquito netting in a variety of sizes, as well as geocomposites.
6. Megaplast India Private Limited
Megaplast India Private Limited, an ISO 9001-2008 certified producer and supplier of various sorts of shopping carrier bags, with a monthly manufacturing capacity of over 800MT.
Their cutting-edge manufacturing plant in Daman is approximately 180 kilometers from Mumbai's commercial port and is equipped with the most cutting-edge technologies. The use of cutting-edge technology in operations aids in the provision of high-quality products at the best possible price. Megaplast Packaging maintains a higher degree of quality by maintaining quality control with a fully equipped laboratory and meticulous on-line and off-line quality testing, assuring the best product with the highest quality that constantly surpasses client expectations.
7. Suntech
Suntech has been a high-quality manufacturer and provider of Geosynthetic materials with a significant market presence since its beginning in 2013.
Suntech produces high-quality geomembranes with thicknesses ranging from 100 to 2000 microns and a variety of surface finishes to provide frictional qualities that are precisely suited to meet site-specific circumstances.
8. Lamifab Industries
Lamifab Industries has a long history of producing and exporting Rainseal HDPE Tarpaulins, Canvas Tarpaulins, and PVC Tarpaulins. Lamifab Industries was founded in 1994 and has followed market trends and requests for novel products linked to plastic woven textiles and laminated fabrics ever since. They stick to a philosophy of supplying top quality and materials at the most competitive costs to all of our clients by utilizing innovative technologies and automating processes.
9. Gujarat Craft Industries Limited
Gujarat Craft Industries Ltd (GCIL) is an ISO 9001:2008 certified company that produces, supplies, and exports a wide range of tarpaulins and related products. Tarpaulins Truck Covers, Tarpaulins for Trucks, HDPE Woven Fabrics, PP Laminated Woven Fabrics, HDPE Laminated Woven Fabrics, and PE Waterproof Tarpaulins are among the products available. The lightweight, high tensile strength, and longevity of the given items are highly praised. They deliver these things in the requested size and color to ensure consumer happiness.
10. Tarpaulins India Tarp Pvt. Ltd
Since 1977, Tarpaulins India has been a dedicated manufacturer and supplier of high-quality tarpaulins, including Waterproof Tarpaulins and Cotton Tarpaulins of various varieties. They are one of India's leading manufacturers of 100% waterproof plastic and cotton tarpaulins, L.D.P.E., H.D.P.E., sheeting/rolls, fumigation coverings, and other products. They have carved out a niche for themselves in this business with their 33 years of experience. Within India, they are a government-approved contractor and general order provider.