What is the Use of Geomembrane Sheets?
Geomembranes are made of non-geosynthetics materials consisting of thin sheets of continuous polymers. Geomembranes create an impenetrable barrier that prevents leaks of harmful pollutants or harmful chemicals in the surrounding areas.
It is also frequently used as a barrier to drinking water and the requirements for irrigation storage to prevent leaks. Geomembranes are used in conjunction with other geosynthetics products to control fluid flow and to provide content for mining-related projects, sewage treatment, and canal construction.
Table of Contents
Applications
The increasing application of geomembranes is noticeable in different industries due to the versatility of the product. Geomembranes have a broad range of applications in industries such as mining, marine, civil, water treatment, and transportation. Some of the applications are mentioned below.
Mining Industry
It is purposed as a lining solution for evaporation ponds, heap leach pads, and tailing impoundments. The structure and construction of these heap leach pads are regulated to protect the environment from exposure to harmful chemicals so a lining system, typically an HDPE Geomembrane, forms a critical component in the construction of these heap leach facilities.
Water Industry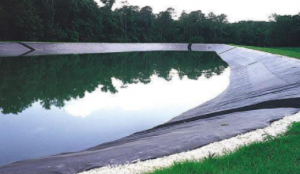 HDPE geomembranes play a crucial role in delivering clean water to the community. They are used in services concerned to drinking water and wastewater including sewage treatment. While canals, dams, and reservoirs are sealed with Geomembrane liners they avoid contamination from groundwater. Geomembrane is also used to avert contamination of potable water from the soil and other pollutants as well as preventing loss of water through the infiltration of the water into the surrounding soil.
Marine Industry
HDPE geomembranes are used generally in the marine industries, particularly in the construction of floating docks or jetty platforms backed by pontoons. In the construction process, the HDPE Geomembrane is covered around the flotation foam of the pontoon to provide a protective barrier that increases the durability of the product.
Agriculture and Nurseries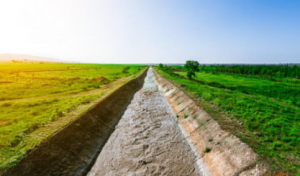 HDPE liners are widely used by farmers in lining dams and ponds as they provide cost-effective and reliable containment solutions.
Geomembranes are as well as used for various applications in nurseries including waterproofing and containment of soils. HDPE liner usage in commercial nurseries is growing as customers' transition from using PVC and LDPE liners.
Installation
Geomembrane liner installation is much technical. It requires welding equipment and a qualified welder to install them perfectly on site. The most general method of securing the liners on side slopes is utilizing an anchor trench around the perimeter.
Geomembrane Durability
Several components affect the degradation of polymers within the geomembranes. Components like UV exposure, chemical impact, biological contaminants (animal, fungi), and thermal expansion impact the life span of the geomembranes.
Technical expertise is a must when selecting the right type and thickness for the project. This is usually based on the depth of the containment and the geotechnical conditions of the site.
Conclusion
Determining the best type of Geomembrane for your project can be a difficult task. Several aspects such as cost, availability, and applicability come into play.
Among all the Geomembrane types, HDPE is the most recommended due to its operational advantages. It adheres to the environmental sustainability requirements and is cheaper than other Geomembrane types, and has a variety of applications.
For more information Contact Ocean Geosynthetics for geomembranes that are durable, have high endurance, are flexible, have high chemical resistance, and are at the same time economical and environment-friendly.
FAQs
Can geomembranes be used in potable water applications?
Yes, certain geomembranes, like food-grade HDPE or NSF/ANSI 61 certified materials, can be used for potable water applications. However, they must meet specific regulatory standards and undergo proper testing.
Are geomembranes resistant to punctures? 
Geomembranes can have varying levels of puncture resistance depending on the material type and thickness. Thicker membranes generally offer higher puncture resistance.
What is the purpose of geotextiles with geomembranes? 
Geotextiles are often used in conjunction with geomembranes to protect them from punctures during installation, provide cushioning, promote drainage, or act as a separation layer.