Geosynthetic Clay Liner vs. Compacted Clay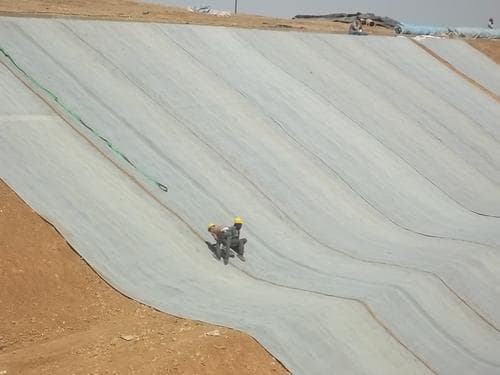 Geosynthetics have gained widespread popularity in civil, geotechnical, environmental, coastal, and hydraulic engineering projects owing to their versatility and cost-effectiveness. Of note, over the past decade or so, Geosynthetic Clay Liners have replaced compacted clay liners in various applications, especially in terms of hydraulic performance and ease of installation. The Ocean Geosynthetics, prefabricated geosynthetic clay liners, find immense uses as cover systems, composite liners, protection barriers, storage tanks, canal liners, pond liners, and more.
There is a rapid expansion and growth in the geosynthetic clay liner market owing to the increasing prominence of infrastructure development. Moreover, rising awareness about geosynthetics being the environmentally-safe alternative has propelled their demand in the global geosynthetics market.
Table of Contents
What is a Geosynthetic Clay Liner?
Geosynthetic clay liners are essentially two layers of geotextiles sandwiching a layer of sodium bentonite clay. The geotextiles are needle punched, physically bonded, or stitched for structural integrity. They may be woven or non-woven geotextiles, depending upon the project specification and applications.
The GCLs are either made of polypropylene or bentonite. Bentonite is fine-grained absorbent clay, typically made of montmorillonite and swells on wetting. Application-wise, they find uses in geosynthetic sectors like roadways, railways, waste treatment, landfill mining, gas and vapor seals, ground engineering, agriculture, waterproofing, tunneling, etc.
What is unique about the Ocean Geosynthetics Prefabricated Geosynthetic Clay Liners?
The Ocean Geosynthetics' prefabricated geosynthetic clay liners consist of high-quality bentonite liner encapsulated between two layers of geotextiles needle punched and then subjected to controlled heat treatment to thermally lock the layers and fibers in place, providing high shear strength. They find use as single or composite liners.
The benefits of geosynthetic clay liners over compacted clay
Here are some reasons why GCLs are largely replacing traditional compacted clay.
Natural sealant: The sodium bentonite characteristically swells on wetting with an affinity for water, acting as a sealant around penetrations, self-healing punctures, and also self-seam at overlaps.
Long-term performance: GCLs eliminate the problems of differential settlement and are less impacted by desiccation-rewetting cycles owing to the high plasticity and self-healing capabilities of sodium bentonite. The traditional compacted clay liners succumb to these conditions and crack up. The GCLs are invariably more resistant to varying weather conditions providing consistent performance over the long-term. The compacted clay liners, on the other hand, show a decrease in performance with varying moisture content, clay content, or density and are hugely dependent on weather conditions.
Ease of Construction and Installation: GCLs are the environmentally-friendly alternatives requiring less effort during installation and using up lesser natural resources, also taking up lesser air space. They are even easier to deliver just unrolling and overlapping as opposed to hauling, dumping, spreading, and compacting clay resulting in added construction time, increased logistics, and cost. While the clay liners use local aggregate, the manufacture of GCLs is in factory units with the quality of raw materials and products undergoing stringent testing measures during and post-production.
Choose Ocean Geosynthetics for the complete range of prefabricated geosynthetic clay liners.
With benefits like self-healing, self-seaming, unaffected by wet/dry, freeze/thaw cycles, and excellent resistance to chemical and physical stressors, the Ocean Geosynthetics prefabricated geosynthetic clay liners show superior performance, are multifunctional, and yet cost-efficient.
Manufactured with the latest technology and designed to meet the unique challenges of individual projects, choose your pick from the range of high quality geosynthetics products and materials.