Geosynthetic Reinforced Soil Walls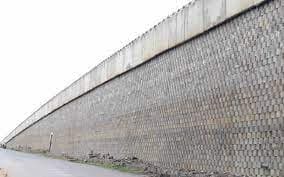 Geosynthetics, with their long-term durability, environmental-friendly applications and cost effectiveness, have become indispensable in civil and geo-environmental engineering across the globe. India is no exception, and the recent emphasis on infrastructure development has further given the geosynthetics industry a boost. In recent times, the construction of geosynthetic reinforced soil walls has seen an upsurge. The use of geosynthetics as tension-resistant elements enhances the structural stability of the walls.
Ocean Geosynthetics, the leading geogrid manufacturers in India, provide robust products for reinforced soil walls.
Table of Contents
What are reinforced soil walls?
Retaining walls are rigid structures supporting soil laterally, but their needs vary depending on the site and project. Reinforced soil walls are structures that are 70 degrees or higher and use geosynthetic products such as geotextiles and geo-grids to improve stiffness and stability.
Along with the on-site soil, geogrids offer reinforcement and stability. The increased stability allows for the accommodation of greater loads even at steeper angles. The high tensile strength, improved chemical and biological resistance, ability to hold aggregates together, and durability make geogrids the ideal choice for soil backfilling retaining walls.
Ocean Geosynthetics, the premium geogrid manufacturers in India, is the ideal place to get smart products at smart prices for all your civil engineering projects.
Offering a great deal of flexibility as compared to conventional concrete gravity walls, the geosynthetic reinforced soil walls can adapt to a wide range of conditions. They also offer the versatility of a range of faces to suit the project/customer needs.
Benefits of geosynthetic-reinforced soil walls:
Civil engineers face many challenges in terms of site constraints, time schedules, ensuring maximum utilization of local resources, manpower, long-term performance and durability, and, needless to say, the environmental impact. Geosynthetic products are saviours with respect to every challenge in civil engineering.
The geosynthetic reinforced soil walls also have a host of benefits such as:
Utilize on-site resources and require less site preparation with minimum excavation.

Reduced logistics

Superior flexibility when compared to concrete walls

Minimal maintenance

Less time consuming

Extended service life

Highly cost-effective and environment friendly.

Withstand natural disasters like earthquakes and landslides with better seismic resistance.
Examples of Geosynthetic reinforced soil walls in India:
The first geosynthetic-reinforced soil structure dates back to the mid-80s, constructed on National Highway No.1 near Ludhiana, Punjab, where geo strips were the reinforcing element with the use of precast concrete panels as fascia. The Visweswarayya Setu road over rail bridge also used biaxial basal geogrid reinforcement with precast concrete fascia.
Hundreds of such structures have since been built in Chennai, Delhi, Mumbai, Hyderabad, and national highways across India using various geosynthetic products.
The road overbridge approach at Eluru in Andhra Pradesh, a tiered reinforced soil wall at Vijayawada, Andhra Pradesh, and the 45 m high geosynthetic-reinforced wall with gabion wraparound facia at the runway of Pakyong Airport in Sikkim are some more examples of such structures across India.
Ocean Geosynthetics are champions of innovation and forerunners in the geosynthetic industry. Our range of products is robust, sustainable, environmentally safe, and cater to a wide range of civil and geo environmental engineering projects. Whether your project is a small retaining wall or a massive geosynthetic-reinforced wall on highways, we have the perfect engineering solutions to your infrastructure needs. Contact us for further information and support.