Geotextiles in Pavement and Drainage Applications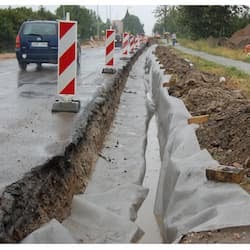 PC:  Google
The use of geotextiles in the roads and highways sector is on the rise, especially in India. With all the importance given to infrastructure development, there is a high global demand for geotextiles which will only increase over the coming years. Geotextiles are incredibly versatile and valuable in various engineering sectors. Whether it is controlling soil erosion on slopes and embankments, rockfall protection, coastal and shoreline protection, stabilizing roads, railway ballast, or agricultural uses, geosynthetics are indispensable. Here is all you need to know about geotextiles in pavements and drainage applications.
Improving roadwork, pavement, and drainage projects are now easy, for, with Ocean Geosynthetics, you can build better.
What are Geotextiles?
Essentially, geotextiles are either polypropylene, polyethylene, PVC, polyester, or polyamide. Depending on the project on hand, you can vary the physical properties of geotextiles. Variation is by using additives and by the use of different processing methods. The primary functions of geotextiles include separation, filtration, stabilization, reinforcement, and drainage.
Woven or non-woven, the high resistance to installation damage, high tensile strength, superior and long-lasting performance, and availability in varying thickness and strength are some very significant features that make geotextiles the chosen material for pavement and drainage applications. 
Geotextiles in Pavement and Drainage Applications
The most common applications of geotextiles in pavements and drainage include:
Surface layer reinforcement

Rehabilitation of old pavement surfaces, crack treatment, or sport repairs

Encapsulation/separation

Drainage, water control, clogging prevention, and moisture control.
For Pavements:
There is extensive use of geotextiles in asphalt concrete overlays on roads and separation and reinforcement/stabilization of roads. In the pavement system, geotextiles act as a stress-relieving layer between the pavement and overlay, reducing cracks and acting as a moisture barrier. As a separator, geotextiles between the soft subgrade and granular layer keep them from mixing up.
For Drainage:
Proper drains serve to relieve the hydrostatic pressure, prevent loss of soil strength, and provide stability. Cracked and damaged pavements allow seepage of surface water through the pavement slab, washing away the subsoil and further weakening the structure. This water build-up between the subsoil and pavement slab, when subject to traffic loading, can pump out the soil below and reduce the overall structural integrity.
The use of geotextiles in drainage applications is relatively recent, say about 25 years. In drainage, the geotextiles act as a conduit for liquids or gases. For underdrains constructed along pavements, the gravel-filled trenches lined with geotextiles allow water to drain into the trenches and separates or restricts soil materials. For drainage, non-woven geotextiles are the preferred choice due to the small pore size and high flow capacity.
When installed between pavement and subsoil, the non-woven geotextiles make for a horizontal drainage channel, discharging the water before it can compromise the road structure. Non-woven geotextiles help protect the integrity of the pavements against any hydraulic factors.
Ocean Geosynthetics for Geotextiles:
For the purpose of pavement construction, geosynthetics perform the functions of separation, reinforcement, filtration, and drainage. Manufactured in the most modern and updated plants, the product array at Ocean Geosynthetics includes woven and non-woven geotextiles. Backed by extensive research and a superior design, Ocean Geosynthetics provides you with cost-effective geosynthetic products and materials. Contact our team of experts and pick your choice of geotextiles after a discussion.