Pond Liner Manufacturer and Supplier in Delhi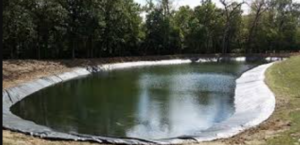 Often people get confused as to which pond liners to buy, how much it cost, and most importantly, whom to buy it from.
Of course, you don't want to compromise on the quality of the liners. You want them to be long-lasting (durable), affordable, environment-friendly, flexible, or basically as per your requirements. 
And then you want someone to help you make the right decision and help you construct a great pond that really helps prevent any sort of water seepage or leakage from your pond and makes it free from any sort of sediment or pebble, gravel deposition. You also don't want any hassles of installing, relocating or any other puncture-related issues in your pond. 
And therefore, it becomes essential that you buy your pond liners only from someone who really knows them and is an expert in this field.
Ocean Global is one such popular name in this industry having been here for a very long time now. They have been catering to and manufacturing the best quality pond liners for many large-sized, medium-sized, and small projects.
Table of Contents
What is Ocean Global and Who They Are?
Ocean Global is the leading pond liner manufacturer and supplier of the finest and unrivaled quality pond liners in India.
So, if you are looking for exceptional quality fish pond liners, then they are your saviors.
Ocean Global was established in 1998 and since then, they have been leading in the sector of manufacturing the most environment-friendly and superlative engineering solutions for various construction sites, reservoirs, and other soil-related problem areas.
Their headquarters are in New Delhi.
They are popularly known for their exceptionally modern techniques, usage of the latest technologies, and innovative and creative engineering solutions and have been providing such integrated services seamlessly to their clients with effective production processes and maintaining a high standard of manufacturing processes as well. 
The best part is that they have a proper quality assurance and production unit with a research and development team working seamlessly that strives to offer only the best services to their clients and settle for nothing less.
The Pond Liners Manufactured by Ocean Global
Ocean Global takes complete pride in manufacturing India's leading quality pond liners that are known to be extremely long-lasting, economically viable, hard-wearing, flexible, and available in different thicknesses that you can utilize for diverse applications.
They are known for their optimum quality HDPE pond liners which are known to have exceptional physical properties.
The pond liners are nothing but Geomembranes made from polymers. They are absolutely impermeable, which helps in the retention of water, and also prevents any kind of water seepage into the ground.
The other major features offered by the Ocean Global pond liners are:
Prevention from seepage

Environment conscious

Retention of water

Durable

Offers the best ease of installation and easy-to-handle material

Can withstand any weather condition

UV and chemical resistant

Economical

Puncture resistant

Lightweight

Hard wearing

Highly Flexible
Such premium quality HDPE pond liners, which are extensive;y used in various industries can be found in several applications such as aquaculture or fish farming, agriculture, rainwater harvesting, canal lining, large ponds or residential garden ponds, soil pollution prevention, roadblock sheets, biomedical waste dump yards, construction sites, etc.
Well, your search for the ultimate and premium quality pond liners definitely ends at Ocean Global. They make sure to offer you nothing but the best, at the most affordable prices, and which is even long-lasting.