Geonet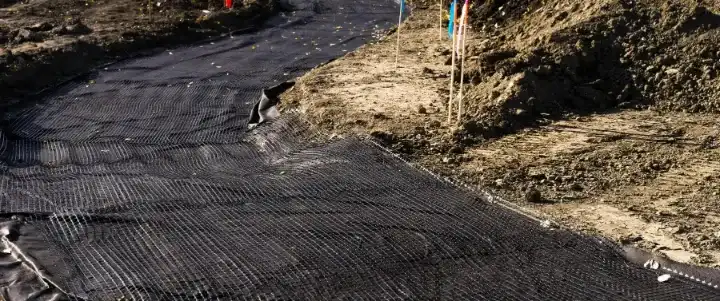 Ocean Global, India, offers a range of precision-manufactured geosynthetic geonets to suit your needs. We ensure high-quality material, high durability at cost-effective prices. We are the best Geonet manufacturers & suppliers in India.
Table of Contents
Geonet Manufacturers and Suppliers in India
Description
Geonet is a geosynthetic product with integrally connected parallel sets of ribs overlying similar sets. The overlapping bands are at a permanent angle creating equal holes/apertures. They are three-dimensional geosynthetics. Made from extruded HDPE (high-density polyethylene), geonets are laminated with geotextiles on one or both surfaces. Through its specially designed high flow paths, geonets allow liquids and gases to flow through.
The density of the geonets determines the rigidity. The higher density geonets form the more rigid products. The in-plane hydraulic flow rate and transmissivity play a crucial part in geonets as their primary function is to allow liquids and gases to pass.
Geonets are also known as geospacers.
Function
Liquid collection and drainage, gas collection and discharge, protection
Sector
Ponds, mining, and landfills.
Salient Features
Geonets are discernibly stiffer than geotextiles and hence can sustain a considerable amount of load.
Between soil strata, they provide increased shear strength.
Excellent tensile strength and elongation.
Good compression strength and deformation.
Planar transmissivity.
HDPE geonet ensures high endurance.
Resistance to biochemical factors.
Resistance to chemically aggressive environments (impact of contacts like bitumen, concrete, soil grounds, and water solutions).
Geonets are ecologically safe.
Applications
Geonets have a host of civil and environmental engineering applications.
Erosion control: The ribs in the geonets act as check dams, slowing down surface runoff, decreasing erosion.
Drainage layers: Geonets find use in tunnel drainage systems. Their drainage functionality finds utility in drainage of seeping rock slopes, water drainage beneath sports fields, and buildings.
Another use is for surface water drainage within landfill caps.
They help with leachate drainage of landfill side slopes and above landfill liners.
Geonets find use as boulder nets, nets on railway lines for loose boulders, and for vegetation support.
They act as an anchor trench at the top of a slope.
Reinforcement of road surfacing.
Landscape architecture. The geonets protect and reinforce grass surfaces.
The grass grows through the geonets, ensuring the preservation of the grass surface.
Geonets are also great for leak detection, methane gas collection, and pond leak collection.
Suitable For -