Railway Track Work in Section-IV (kms.216.00 to Kms.280.00)Pune-Miraj Doubling Project in Maharashtra – Case study
For years Railways have provided for the essential transportation of goods and even passengers. They have really played a vital role in the development of our country.
In recent years, owing to the rising population, there has been a tremendous demand for more railway lines or a doubling of railway lines to help save a lot of time.
The Pune-Miraj Route doubling project was taken up to double up the 35 km track stretch in order to save around one and half hours of travel time for the railways.
This has however resulted in increasing cyclic stress on the various railway tracks and their substructures which are essentially built up with ballast layers.
These structures need to be stronger and possess more stability along with proper drainage and filtration, ballast reinforcement, steep slopes reinforcements, waterproofing, and even basal boosting rail embankments, etc.
And for all this, these days the railway construction industries have increased the usage of Geosynthetics such as Geotextiles and Geogrids to help boost the stability of such tracks and their embankments, and that too in the most economical way.
Product – PP geotextile/ geogrid (3.0mm/30 kn)
Quantity – 24240 sq. m
Location – Pune. Maharashtra
Problem
Ballasts and sub-ballasts are really an important part of constructing the railway lines, owing to their huge benefits such as the provision of proper drainage facilities, filtration of subgrade soil that can move upward into the ballast layer, reduction of stress induced by the movement of high-speed trains on to the soil underneath.
But, owing to the continuous usage of the tracks, the wear and tear that has been caused over the years, leads to the ballast undergoing a lot of degradation and deformation that eventually causes the tracks to be misaligned.
And this brings along with a lot of maintenance costs for tracks and even several restrictions imposed on the speed of the railways.
All this led to the introduction of geogrids and geotextiles for the stability of the tracks.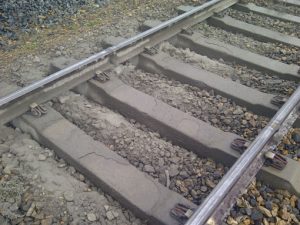 Solution
During the doubling of the tracks at the Pune-Miraj route, the usage of geotextiles and geogrids was found to bring in the much-needed safety and stability of the tracks that helped in less maintenance over the years, as these geosynthetics really have proved to be durable and cost-effective solutions for all the problems that were encountered before in other railway projects.
Thus, to mitigate these challenges, the Ocean Geogrids and Ocean Geotextiles helped in the proper drainage, waterproofing, proper filtration and separation of soil, ballast and sub-ballast reinforcement, and embankment reinforcement, among others.