Storage Iron Slurry in Steel Plant – Odisha Case Study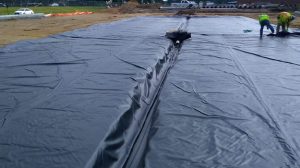 The mining industry is progressing faster than ever. Today, as companies continue to win the competition, new opportunities are created and disappear. Being one step ahead means not only finding the right opportunity but also entering the market first.
Reliable, long-term mining design relies on reliable products that meet field needs and reduce costs. In addition, HDPE geomembrane liner is one of the most important components in many mining operations around the world, so it is important to choose the right geosynthetics partner.
Magnetite reserves are largely in the eco-sensitive zone of the Western Ghats and are not being exploited. These deposits, which will be locked for the next decade, could be evaluated for exploitation using a specific mining process that is environmentally friendly.
Increased demand for coal in steel and power plants, insufficient rail capacity to handle fine ore concentrate, overburdened route (120 percent capacity utilization in some portions), and poor last-mile connection.
Product – Ocean Geomembrane
Quantity – 10000 sq mtr
Location – Odisha
Problem
Steel manufacturers in Odisha are now looking at conveying iron ore from mine heads to their plant locations in slurry form through pipelines, fearful of congested roads and spiraling costs of surface and rail delivery of raw materials. Aside from the inconveniences of road and rail transportation, iron ore delivery via the slurry pipeline will be cost-effective.
In this context, steel companies are looking to the slurry pipeline to solve their transportation challenges and save money. However, this comes with its own sets of challenges, such as land acquisition and forest removal where necessary for pipeline installation.
Need for Slurry Transportation
Transit time is not guaranteed. Freight train takes 6-8 days to travel 2000km
Common truck for freight and passenger transportation
Logistics costs are 1314% of GDP, compared to 810% in developed countries.
Infrastructure development pace does not match industry needs
No night freight train movement in some delicate areas
Suffering from lack of sufficient transportation capacity, heavy load compared to global players
The rotation time of the freight car is very short.
Solution
Geomembrane plays an important role in working as a barrier to avoiding the loss of valuable slurry. The barrier also separates the salt solution from the surrounding ground. Thus, genome blancs belong to the most important components of the brine evaporation area.
High-density polyethylene produced geocytic liner is lightweight, durable, very flexible, reduced transport costs and installation. The HDPE Geomembrane has high tensile strength and can co-extrude with a conductive layer having a conductive layer having leak detection quality control during the installation process. In addition, a white layer can be added on top to reduce the heat absorption of the liner and make installation even easier.
The liner acts as a barrier to separation and is also the most important component of heap reach. Soundproof sheets must withstand chemical attacks, usually point loads from high heap load conditions, site-specific terrain, site-specific climatic conditions, and site-specific construction conditions.
A protective layer made of non-woven geotextile helps distribute the load and reinforce the underlying soundproof membrane. The protective layer also aids infiltration and drainage by preventing small particles and gravel from reaching the soundproof sheet.