Top 10 Manufacturers of Geo Cells in India
18 Dec

Top 10 Manufacturers of Geo Cells in India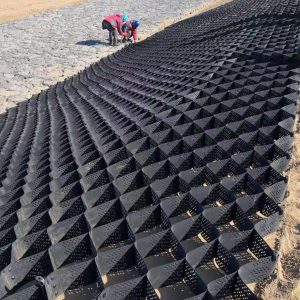 Geocell is a honeycomb-like three-dimensional cellular structure made out of a regular open network of synthetic strips connected by extrusion, adhesion, or other techniques.
Geocells are cellular confinement devices that were created as low-cost, long-lasting materials for environmental stabilization and protection. The soil compaction is effectively preserved using cellular confinement techniques, resulting in a stronger structure for both the infill and the pavement. The Geocell's strength and longevity are ensured by its three-dimensional honeycomb design. This format creates a framework for load distribution that is more efficient.
High-density polyethylene (HDPE) is utilized to construct the cell, which is used to stabilize weak or unstable soil. This is owing to their ability to reduce lateral movement of soil particles while vertically loading on the contained infill.
In addition to providing stability, Geocells create a mattress effect and increase the flexibility of the materials. The cells have high elastic stiffness and tensile strength, which improves the load distribution of the product.
Top 10 Geo Cell Manufacturers in India
1. Ocean Global
Ocean Global is the top geosynthetic materials producer and manufacturer in India. Geotextile, geogrid, geocells, geomembranes, geocomposite, and geonet are among the geosynthetics produced in India.
Their geocell panels are three-dimensional expanding panels made from high-density polyethylene (HDPE), polyester, or another polymer. The connecting strips serve as the walls of a flexible, three-dimensional cellular structure into which specific filler materials are placed and compressed during installation. This creates a free-draining system that maintains infill materials in place and prevents bulk movement by constraining them with tensile reinforcement. Cellular confinement technologies improve the structural and functional performance of soils and aggregate infill materials.
The Geocell technology developed by Ocean Global is an essential component of the civil engineering and transportation industries. They produce Geocells in India to fulfill the changing demands of diverse industries while reducing expenses. Due to the obvious increasing growth of infrastructure and roads across the world, they are in high demand.
2. Enviro Geosystems
Enviroweb Geocells are tiny cage-like structures created from three-dimensional polymeric strips that may be filled with granular materials such as sand, local soils, and recycled asphalt. Geocells are an effective soil stabilization technology for all sorts of soil stabilization and ground reinforcement since the fundamental objective of these structured cells is to restrict the movement of the filling material.
This type of soil stabilization system is meant to boost the pavement layer's strength and stiffness by restricting infill material and distributing the load across a large region.
3. Suntech
Suntech has been a high-quality manufacturer and distributor of Geosynthetic materials with a significant market presence since its establishment in 2013. Suntech Geocells are weight transfer platforms made up of compartment containers that are connected to provide a sturdy base.
Suntech Geocells are three-dimensional honeycomb cellular structures that, when filled with compacted soils, sand aggregate concrete, and other fill materials, provide a confinement system. It's made of high-density polypropylene strips that have been ultrasonically welded together and then extended to make stiff (textured and perforated) walls for flexible 3-D cellular beds.
4. PRS Geo-Technologies
PRS Geo–Technologies is a global geotechnical engineering firm that aids in the construction of a future in which every corner of the globe is reachable. They've been combining sophisticated technology with established technical knowledge for load support, slope protection, earth retention, and landfill applications for over 20 years.
Neoloy Geocells are a three-dimensional honeycomb geosynthetic composed of Neoloy, a nano-polymeric alloy (NPA) with unrivaled stiffness, creep resistance, and service life. HDPE geocells, geogrids, chemical additives, or any other reinforcing geosynthetics provide more engineering, environmental, and economic benefits than Neoloy-based geocells.
5. Gayatri Polymers & Geo Synthetics
Gayatri Polymers & Geo Synthetics are one of the most well-known brands in the market, producing, exporting, and selling a wide range of Geocells. These cells are utilized for better ground improvement. Their portfolio includes Geo Textiles, Geo Membranes, and Geo Synthetic Products, which are thoroughly inspected by quality inspectors on a variety of quality factors.
6. Virendera Textiles
Virendera Textiles specializes in offering top-quality Geo Cells. Its major purpose is to provide a high-quality selection of things to fulfill the demands of its clients.
VT Geocell is a three-dimensional honeycomb-shaped cellular confinement device that is lightweight but sturdy. It may be used as a foundation reinforcement mat to increase the load-bearing capacity of poor soils, as well as an erosion control barrier for slope surfaces. Effectively enhances the load-bearing capacity of poor soils as a load support system.
7. Terre Armee
Engineers and builders looking to design or install a long-lasting system for permanent or temporary erosion control, subgrade soil stabilization, or regulated load distribution will love Terre Armee's Geo Cells.
They provide a prefabricated 3-dimensional textured geosynthetic protection system constructed of high-density polyethylene (HDPE) cell webs that provide exceptional performance. To create a cellular soil confinement system, the cells are welded together at the seams. The geocells are easy to install and are popular with engineers and developers for usage in a variety of landscape applications for transportation, industrial, and residential infrastructure projects.
8. Gorantla Geosynthetics Pvt Ltd
Gorantla Geosynthetics Pvt Ltd, founded in 2006 in Corporated, provides complete waste management solutions such as Scientific Landfill, Legacy Waste Landfill Capping, and Biomining Waste Processing.
They are convinced that providing safe and scientific disposal of municipal solid waste for rural and urban local governments, safe drinking water as a basic need, sanitation and safe wastewater disposal, and pollution control of air, water, and soil are the most important activities that can be undertaken to improve people's health.
9. Climax Synthetics Pvt. Ltd.
They are a well-known company in this field, specializing in the production and distribution of high-quality Hdpe Geocell. The geocell is extensible to meet the needs of the clients and provides excellent flexibility in section size. This geocell is widely utilized on construction sites and is in great demand among clients all around the world. They used the finest of human resources for its manufacture, which was designed at a state-of-the-art facility employing premium grade raw materials and advanced procedures. Their customers may get this HDPE Geocell at a great price.
10. PRC Polymers
Plastic Geocells, Gabion Boxes, Geomembrane Sheets, Geocomposite Sheets, and other products are manufactured by them. Their products are created following industry standards to suit the needs of their customers.