Gabion Walls In Landscaping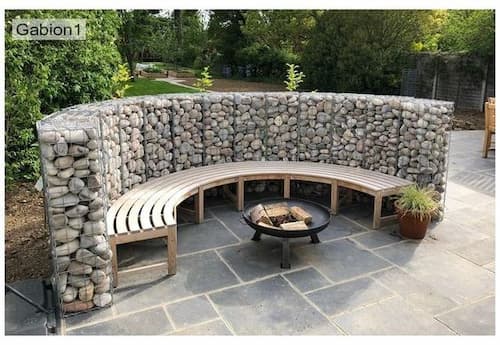 Gabions are not new. They date back to the 1800s when gabion-type structures were deployed on the banks of the Nile. The medieval era saw weld mesh gabion boxes in extensive use as military fortifications. The civil engineers' favoured and versatile material, the Ocean Geosynthetics' weld mesh gabion walls, have long been in use to stabilize banks, coasts, slope erosion control, and highway projects.
Extensively used in the roads and highways sector, for rivers and flood protection, newly they are finding their way into the landscape sector. Yes, you read that right. It is the new and chosen material to work within the realm of landscape and architecture.
The transition of gabions into architecture is owing to their superior strength, adaptability, and permeability. Gabion walls are a series of metal mesh cages filled with rocky material, stones, or soil as per the demand of the project. Easy to contour, the material used to fill the gabion baskets/cages depends on the factors of the project. Overall, gabion walls give a bold, natural, rugged yet aesthetically-pleasing, and textured look. The gabion walls are also the most environmentally friendly structures to work with.
Some magnificent projects showcasing the diverse ways architects use gabion walls are:
Observation House in Bulgaria

Relux Ios Island resort in Greece

South African University of Pretoria Plant Science Complex

Buddhist Retreat at Utah, United States.
The gabion retaining wall structures are a boon to landscape and architecture. They are not just attractive but effective and inexpensive, and sturdy. Made of galvanized welded mesh or steel wire, they are robust and withstand quite some weight without giving way.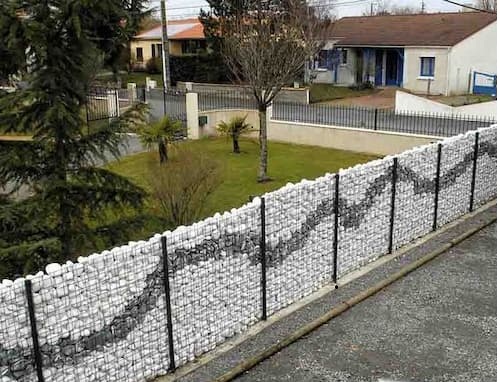 Benefits of Gabion Walls in Landscaping:
Gabion walls are multifunctional and can support an earth wall as a retaining wall, stabilize soil, function as a noise barrier, prevent erosion, act as temporary floodwalls, and also find use in foundation construction and more.
When you sit down with a checklist of pros and cons, gabion walls hardly have any cons and are so full of pros. Here are some of them:
Are gabion walls expensive?

Not at all. They are highly affordable and economical in terms of labor and material, to the extent that smaller projects can easily be DIY. While the weld mesh gabions come at standard pricing, you can exercise your choice in filler and opt for recycled concrete or onsite fillers.

Do gabion walls need foundations

? It is a rare case for gabion walls to require any kind of excavation or foundation.

Are they sustainable

? With high resistance to atmospheric corrosion and the ability to support vegetation growth, they provide passive cooling in hot climates, providing ventilation.

Permeability

: There is no need for drainage pipes as gabion walls are permeable providing automatic drainage.

Are they environmentally friendly

? With natural fillers, natural aesthetics, they are the most environmentally friendly structures to work with.

How long do gabion walls last

? Depending on the quality of the weld mesh gabion boxes and the environmental conditions, it has a typical lifespan of 50-100 years.
At Ocean Geosynthetics, the weld mesh gabions have just the right wire thickness, tensile strength, and elongation to suit any landscaping or gabion retaining wall projects. Use them as gabion baskets, gabion mattresses, gabion sacks, gabion wire mesh, or as decorative elements; the possibilities are truly endless. Feel free to discuss your project, and our team of experts will be happy to suggest the right gabion product.