Non-woven Geotextiles for stabilization of Roads and Highways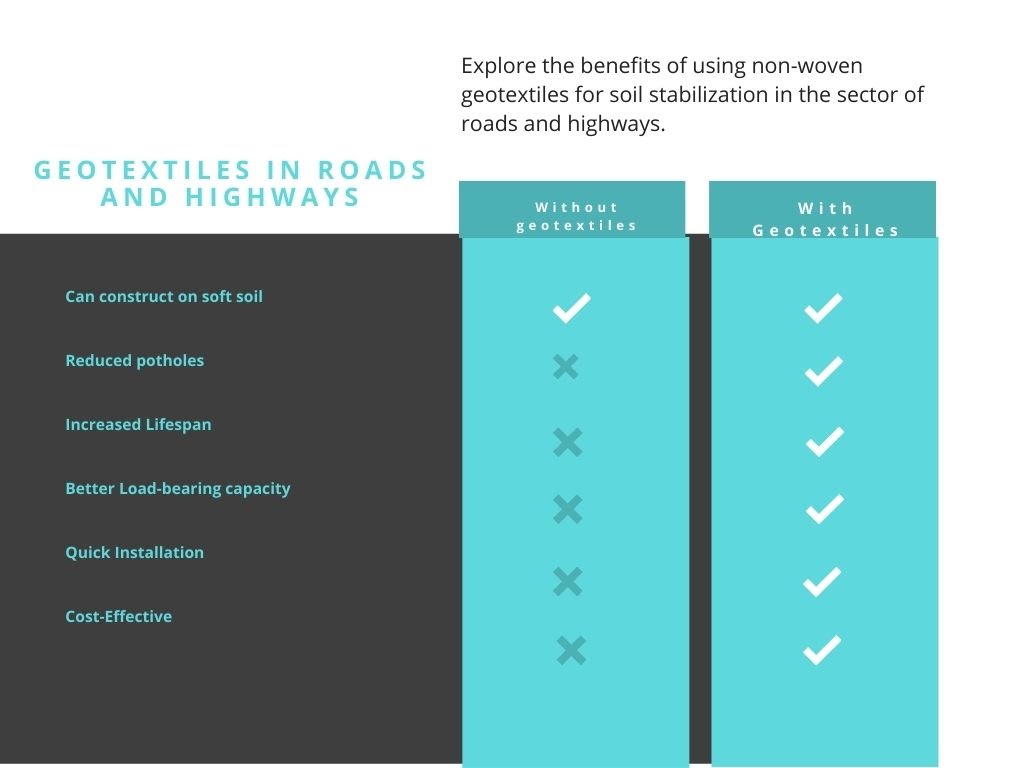 Geotextiles, a class of geosynthetics, play a vital role in the stabilization of roads and highways. Playing the role of a separator, a filter, and reinforcement, modern-day road construction is impossible without using geosynthetics. Ocean Geosynthetics provides premium geotextiles for various uses in the transport sector.
India has an extensive road and highway system that stands at 142,126 km of national highways as of April 2019. In fact, we have the second largest road network in the world. The latest statistics go on to show that highway construction in India has reached 30.5km per day in FY 2021. An essential mode of transport, roads, and highways are indicative of a country's transport infrastructure. The modern highways are designed to sustain increased weight-bearing, effortlessly handle more traffic, with an efficient water drainage system in place.
Table of Contents
What are Geotextiles?
Geotextiles are human-made wonders that are now indispensable to civil, geotechnical, and geo-environmental engineering. Typically made of biologically inert polymers, they are permeable fabrics used for a variety of applications. The geotextiles can be woven, non-woven, or knitted.
The role of Geotextiles in Road Stabilization:
Geotextiles in roads and highways improve soil stability with their higher tensile strength. They not only provide a reinforcing effect but depending on the subgrade and geotextile layer in use, they also contribute to a reduction in thickness. The non-woven variety of geotextiles is commonly used for the construction of roads. They help fill in gaps, increase the lifespan of roads and reduce potholes as well. The use of geosynthetics offers quicker installation, is less expensive, and allows engineers to work on lands previously thought of as difficult.
The Process:
The geotextiles are shipped to the site in rolls. Their primary purpose is separating the subgrade from the sub-base or base and reinforcing soft soils providing a solid base.
In a permeable pavement, on the other hand, engineers use intermittent layers of woven geotextile fabric acting as a stabilization fabric between the sub-base and base, base, and setting bed, adding to the integrity of the pavement.
The pavement surface is cleaned as per standard protocol, cracks cleaned and filled, and cured. Any potholes or pavement distress undergoes repair. The stage is now ready and set for the laying of the non-woven geotextile fabric.
Installation of the non-woven geotextile fabric is manual or mechanical after the application of the tack coat. After brooming and pneumatic rolling, there is the placement of the overlay.
Though relatively impermeable, the non-woven geotextiles have a high load-bearing capacity, a rougher surface and hence are best suited for roads. The porosity, surface texture, puffiness, thickness twists are some parameters that matter when selecting geotextile fabrics. The effectiveness of the project depends on the strength of the material and proper installation technique.
With high tensile strength, UV resistance, rot resistance, chemically and biological degradation inert, geotextiles are a boon to roads and highways, increasing their lifespan by strengthening and supporting aggregates.
Get the Ocean Geosynthetics Advantage for your next project, the company that provides a range of geosynthetics products and smart solutions for all civil engineering projects. We have a wide selection of woven and non-woven geotextiles, especially architected and engineered for roads and highways. Subject to stringent quality control measures, our products are tested to ensure the highest quality and exceed industry standards.