Geosynthetics for Retaining Wall Drainage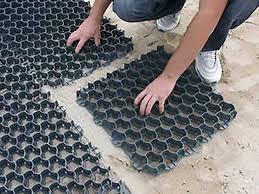 Geosynthetics for Retaining Wall Drainage
Often rainwater and groundwater erode the soil on slopes and can result in massive landslides. Retaining walls with their myriad benefits come to the rescue in such situations. Traditional concrete gravity walls are now obsolete due to the higher cost of construction. Reinforced soil walls using geosynthetics is the emerging method. In the sector of slope stabilization/erosion control, Ocean Geosynthetics are the numero uno geogrid manufacturers in India.
What is a retaining wall?
Structures designed to retain and restrain soil to a slope are retaining walls. Most often constructed in areas with undesirable slopes or where the landscape needs some shaping and engineering for specific purposes, the retaining barriers prevent erosion.
These structures withstand the lateral pressure of the soil. This pressure can be either by earth filling, sand or other granular materials, or liquid pressure. In the realm of landscaping, they are used in terrace yards, planting beds, and for ornamental use in flat yards.
They could be as small as landscape stone walls surrounding a home garden to massive soil-retaining walls as a part of a highway project. Soil erosion is the primary goal, and if appropriately built with good drainage in place, they require reduced maintenance.
Types of Retaining Walls:
Different types of retaining walls serve different goals, and they could be:
Gravity walls

Crib walls

Gabion walls

Cantilever walls

Counter-fort/buttressed walls

Anchored walls

Piled walls

Mechanically stabilized earth walls

Hybrid systems
Factors to consider in retaining walls:
Regardless of the type of retaining wall, there are numerous factors one should consider when building one for commercial or residential purposes. Some of the most important factors are the location, soil, design, and retaining wall drainage.
Some points to ponder before beginning the construction are:
Location statistics and whether the wall is on a slope requiring additional infill

Cutting a hillside and storing the excess soil

Natural drainage

Surcharge loads such as fencing, parking lots, guardrails, etc.
Benefits of Retaining Walls:
Some benefits include:
Prevents soil erosion

Preventing flood control

Add an attractive element to the landscape

Providing value as a property boundary marker

Extensively used in landscaping to create terraced planting areas, make a raised flower bed, or segment off different sections of your property, all of which add value to your property.
The importance of retaining wall drainage:
Improper drainage is one of the most common reasons for the failure of retaining walls. Hence it is of paramount importance to make sure of proper drainage so that there is no water buildup. The construction of a drainage system behind the wall minimizes the hydrostatic pressure leading to a long and successful life of the retaining wall. Geosynthetics like geogrids, geocomposites, and geotextiles find use in retaining wall drainage to facilitate fluid transmission and as soil backfills.
Advantages of using Geosynthetics in retaining walls:
The Geosynthetics made of polymer do not corrode, are flexible, are economical, can be used with other materials, provide long-term durability, are weather-resistant, require unskilled labor with no heavy equipment and provide good drainage.
The geogrids are cased into the panel, and the main geogrid then connected to the bodkin joint. The honeycomb structure allows water to drain through cells and simultaneously retains the backfill material within the panel.
Ocean Geosynthetics cover all of your retaining wall projects, be it civil, landscaping, or architectural. As premium geogrid suppliers, our products are robust yet lightweight, easy to install, and treated to withstand weather conditions.