Plastic Cell Filled Concrete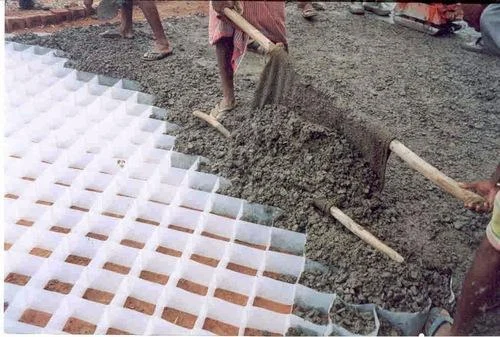 Plastic Cell Filled Concrete Manufacture
Ocean Global in India has an unparalleled range of reliable and durable geosynthetic products. One of its many environment-conscious products is plastic cell-filled concrete for pavements or flexible concrete pavement. We are the best Plastic Cell Filled Concrete Manufacturer & Plastic Cell Filled Concrete Supplier in India.
The technology created, cell-filled concrete pavement, has proven to be a very promising solution for overloaded vehicles, insufficient drainage facilities, and waterlogging issues. Cell-filled concrete pavement is made up of a plastic cell formwork that is poured over a compacted subgrade or sub-base and filled with concrete or stones.
Plastic cell-filled concrete blocks typically find utility in laying a pavement. It consists of a framework of HDPE or LDPE cells that are filled with grouted concrete or compacted concrete. This is a new technology offering design and flexibility for unpaved surfaces. It is an inexpensive alternative to laying concrete roads.
Ocean Global is a leading manufacturer and supplier of cell-fill concrete, which is used to build flexible roadways at a cheaper cost than blacktop roads. The concrete is flexible as a result of the construction procedure, and the surface does not crack. It is labor-intensive, maintenance-free, and well-suited to rural road construction, in accordance with government policy, which emphasizes the need of creating jobs for the poor's empowerment. It has a lower initial cost than traditional pavement. It can also be utilized as an overlay for damaged blacktop roads, footpath pavements, housing complex roads, container yards, haul roads for mineral product transport, and heavy vehicle parking areas, among other things.
Table of Contents
Cell-filled Pavement Construction Procedure
The embankment, subgrade, and subbase should all be built according to the Road Specifications.
Camber that is appropriate for rural roads must be given. In high-rainfall areas (annual rainfall over 1000 mm), a drainage layer should be installed, according to the Road Manual.
For the containment and protection of cell-filled concrete, stone/concrete block or brick on end edge should be set on either side of the carriageway, projecting 50 to 100 mm over the subgrade/subbase.
Because vehicles going close to the edge may harm the unconfined concrete blocks, a firm shoulder with adequate drainage is required for the concrete blocks' stability.
On either side of the pavement, the hard shoulder should be roughly 0.85 m wide.
Plastic cell formwork will be stretched on the compacted subbase and tensioned with iron spikes, forming cells that are near to squares in plan.
While filling the cells with concrete, nylon threads going 10 mm below the top of the cells will keep the cells from collapsing.
If any of the cells' stitches open up while tensioning, staple them near the top, middle, and bottom.
The cells must be filled with concrete to a depth of 120 mm, which is about 20 mm higher than the depth of the cell.
After the cells have been filled with concrete, the iron spikes will be removed. Two passes in static mode followed by two passes in vibratory mode and another pass in static mode should be sufficient compaction and a decent finish for RCC.
The number of passes in both static and dynamic modes is determined by the aggregate texture and moisture content.
Traditional concrete with a sag of 30 to 40 mm can be compacted with pan vibrators.
The trial run will determine the number of roller passes, the amplitude of vibrations, the depth of loose concrete in cells, and the amount of water to be injected.
To keep the concrete from drying out in hot weather, moist jute mats or paddy straw should be used to cover the surface.
Advantages of Cell Filled Concrete Pavements
Recycled plastic is used.
Because no expansion or contraction joints are necessary, joint maintenance is not required.
When compared to traditional cement concrete pavement, the construction costs are significantly lower.
When compared to traditional CC pavements, aggregated usage is nearly half as much.
If a single block fails, it can be quickly changed with little effort and at a low cost.
Function
Base stabilization, erosion protection on embankments.
Sector
Laying roads.
Salient Features
Long-lasting
Low initial cost
Reduces rutting and is maintenance-free
Employment generation
High strength and sustainability
No cracking
Fast to deploy and install even in remote areas
Uses onsite fill, confines, and stabilizes soil.
Greatly extends pavement life
Permeable infill leads to cooler pavements
Applications
Most beneficial in rural areas.
It is essentially the best cost-efficient alternative solution to areas with technical challenges
Overlays on damaged tar roads
Pavements and footpaths
Container yards
Parking area for heavy vehicles
The plastic cell filled concrete finds excellent utility in road surface stabilization, road shoulder stabilization, or road base stabilization.
Suitable For -