Top 10 Manufacturers of Gabions Box in India
22 Dec

Top 10 Manufacturers of Gabions Box in India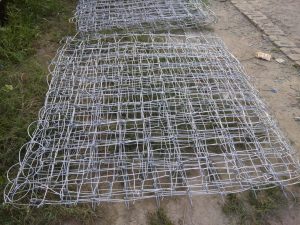 Gabions are strong receptacles filled with inorganic components such as rock, concrete, sand, and soil, as well as glass rock in some architectural applications. Gabions get their name from the Italian word meaning cage. These cages are made of site-specific materials such as galvanized steel, stainless steel, bare steel, PVC coated steel, and copolymer plastic. They're noted for their versatility, and they're designed to withstand a variety of weather and site circumstances.
Due to the general well-bonded zinc coating on the wire and their capacity to sustain plant growth, gabion has very good resistance to air corrosion. This characteristic allows the gabion to settle and distort without breaking down or losing its effectiveness. Specifically, while encountering unstable terrain and flowing water.
Gabions are widely employed in civil engineering, military applications, road construction, general landscaping, foundations, erosion control, and architectural embellishments, among other uses. Gabions are flexible and permeable constructions that are utilized for several functions, including architectural fence and veneer building, as well as coastline erosion stabilization.
Top 10 Gabion Box Manufacturers in India
1. Ocean Global
Ocean Global is a company that specializes in the manufacture of high-quality weld mesh gabions in India. The Ocean Global gabion collection is made to exacting standards and contains the following items:
Gabions are a specialized technical solution consisting of metal wire and shaped into a mesh. They are wire boxes containing materials such as stones (stone gabion boxes), concrete, or even sand and dirt within. The galvanized wires' endurance determines how long the wire mesh gabion box will last.
Ocean Global has a variety of gabions to meet the demands of every customer. Gabions exist in a variety of shapes and sizes because of their malleability, including gabion baskets, gabion beds, gabion sacks, gabion wire mesh, and ornamental gabions. The tensile strength of the double twisted hexagonal gabions is exceptional.
2. Gabion Technologies India Private Limited
GTIPL gabion is a rectangular wire mesh box made up of three one-half turns (often referred to as double twisted) of zinc galvanized and PVC coated steel wire to generate hexagonal shaped mesh apertures. These mesh holes are then joined to produce hexagonal meshes by connecting neighboring wires. The edges and transverse diaphragm are reinforced with selvage/edge wire, which is a thicker and heavier wire. It provides the gabion/mattresses/netting more sturdiness and form.
These Gabion boxes are filled with natural stones on the job site to create flexible, permeable monolithic structures such as retaining walls, sea walls, channel lining, revetments, and wires for erosion control.
3. Paaras GSW PVT. LTD.
Gabion Boxes, which are made of mild steel, iron, low carbon steel wire, iron, and galvanized steel, are used for river control, reservoirs, landscaping, canal repair, and retaining walls. They may be found in a variety of gardens, villages, metropolitan areas, and land redevelopment projects. These also help to separate and divide regions, as well as offer reinforcement to earthen walls. The baskets come in a variety of sizes to suit a variety of demands and styles. Due to their beautiful designs, our Gabion Boxes are particularly popular among gardeners and landscape architects. They were rust-resistant thanks to the PVC and zinc covering, and they could be used to store stones and grids. They are extremely robust under tension and act as structural supports.
4. Deepak Industries
Deepak Industries is a leading provider of double twisted woven wire mesh box-shaped baskets in a variety of sizes and dimensions. Mechanically woven, double twisted hexagonal shaped wire mesh is used to construct these boxes. Furthermore, these boxes are acid and abrasion-resistant.
Their expert workforce, which includes manufacturers, raw material collectors, quality checkers, and PVC Gabion Box suppliers from Delhi, manufactures their given range of PVC Gabion Box. They provide a superior range that lasts longer thanks to their years of experience.
5. Manufab India
They are a group of committed Technocrats based in Jammu and Kashmir. Having a lot of expertise with gabion and wire-mesh products. All of our products are made from high-quality galvanized wire and meet the requirements of BIS 16014:2012, MORTH, and ASTM.
6. Arihant Steel
Gabions are rectangular wire mesh baskets filled with stones on the job site to create flexible, permeable monolithic structures like retaining walls for commercial, industrial, and road constructions. Gabion and Gabion mattresses are tried-and-true, technically sound methods for retaining soil and reducing erosion. This method is widely utilized all around the world. They're also employed for weirs, channel linings, and bank stability.
Their goal has always been to remain committed to our job and to develop unique goods that can aid in our clients' professional development in their various fields.
7. PRC Polymers
PRC Polymers Gabion Box is a double twist hexagonal wire mesh basket with variable size interior cells that is evenly partitioned. All wire is zinc coated by hot-dip galvanizing, and PVC components are heat bonded with a heavy-duty PVC coating by extrusion. Retaining walls, bridge walls, bridge abutments, sea walls, weirs, culverts, and riverbank protection are all examples of flexible, permeable, monolithic constructions that are filled with stone at the project site.
8. Gayatri Polymers and Geo Synthetics
They are one of the most well-known names in the market, manufacturing, exporting, and trading a wide range of Geocells. These cells are utilized for better ground improvement. Their portfolio, which includes Geo Textiles, Geo Membranes, and Geo Synthetic Products, is thoroughly inspected by quality inspectors on a variety of quality factors.
9. Laxmi Wire Products
They are a well-known Gabion Box Manufacturer and Supplier situated in Jammu and Kashmir, India. Gabion Boxes are manufactured in our well-equipped production facility under the supervision of qualified personnel. They verify the Boxes on severe quality standards before final delivery to ensure client satisfaction. They provide a fantastic selection of Gabion Boxes at very reasonable prices.
10. J & S Fence Industries
Gabions are rectangular/square-shaped wire containers that are filled with stones on-site to produce permeable, flexible, monolithic structures such as retaining walls, channel linings, revetment, weirs, and other structures that help to prevent soil erosion and flood control. Civil Engineers and Architects have agreed that these are the best options.