Geosynthetics for Hazard Management In the Rockfall-Prone Himalayan Mountains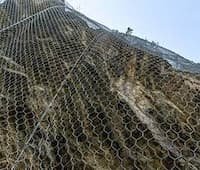 Geosynthetics play an essential role in mitigating hazards in the rockfall-prone Himalayas. Ocean Geosynthetics is a leading manufacturer of environmentally safe and robust rockfall barriers that protect human life and infrastructure from the unpredictable snow, rocks, and boulder debris along the mountain slopes.
The mountainous terrains are a fragile ecosystem, extremely sensitive to any climate or environmental changes. Factors human-made or natural can easily tilt the balance resulting in devastating effects. India, a land of spirituality and temples, has hundreds of temples in the Himalayan mountain ranges. The Badrinarayan temple, Muktinath temple, Amarnath Cave temple, Kedarnath, or the Gangotri and Yamunotri temples are only a few examples of famous temples in Himalayan ranges that attract lakhs of pilgrims every year.
Considered the abode of divinity, the magnificent mountains of the Himalayas look all peaceful and serene, but even slight natural movements on the slopes can cause incidents of catastrophic proportions. Rockfalls are not unheard of when pilgrims are en route to such holy places. At various time points in the past, they have cost precious human life. The rockfalls jeopardize not just human life but also endanger the age-old heritage and infrastructure around. Seasonal changes and rainfall or snowfall only aggravate and exacerbate these risks further.
Tailor-made solutions to alleviate the risks associated with slope debris in terrains at altitudes greater than 11700 feet above sea level is a challenge that only geosynthetics can fulfill.
Rockfall Barriers and how they can help:
Rockfall mitigation is an indispensable part of the railways, roadways, and slope stabilization sectors. Any project involving mountainous terrains, especially that of the Himalayan slopes, requires meticulous planning and design with impeccable implementation. A detailed study of the topographic parameters, rockfall travel distance analysis, the height of fall, travel distance, travel angle, and also rockfall volume are essential to understand the kind and strength of barriers required.
Manufactured as rockfall fence, rockfall drapes, and mesh nets, the choice of rockfall barriers primarily depends on their suitability to the project on hand. A combination of two or more types of rockfall barriers provides optimum, cost-effective solutions.
The mesh or rockfall drapery is in the form of double twisted steel wire with high tensile strength, high punch resistance, and the capability to withstand loads and low deformation. Highly resistant to corrosion, the rockfall drapery can withstand extreme weather conditions. It is secured over the top of the mountain slopes that pose a threat and then draped or hung down the slope face. Securing the drapes with anchors enhances their stability forming a containment system wherein any untoward and unexpected rock/snow debris is held within the drape, preventing loss of human life or property damage.
With the high safety standards, relatively easy installation, lightweight, high strength, high durability, low anchoring force, corrosion protection, and amenable to extreme climatic conditions, the rockfall barriers have alleviated a considerable amount of risk along the Himalayan slopes.
Ocean Geosynthetics, the geosynthetic specialists, are environmentally conscious. They manufacture sustainable geosynthetic solutions, including an array of rockfall drapery, fences, mesh, or rockfall nets. In the industry for over two decades, we offer high-quality geosynthetic products apt for your geoenvironmental project.
For more information on our range of hazard mitigation solutions, please contact our team of experts.