Biofloc Fish Tank System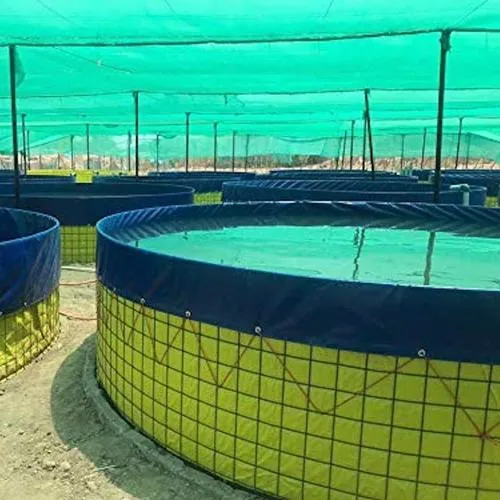 Biofloc Fish Tank System
Ocean Global in India supports the "blue revolution" and manufactures Biofloc tanks to make aquaculture a sustainable activity. Adhering to the highest production standards, we use high-quality non-migratory PVC polymer for the manufacture of biofloc tanks. We are the best Biofloc Fish Tank System and PVC Fish Farming Tank Manufacturers in India.
Table of Contents
What is Biofloc Fish Tank System?
Fish, a high-protein, mineral, and nutrient-dense food, is a staple in the diets of Indians residing in various parts of the country. The main sources of fish supply are aquaculture and capture fisheries. India is a big contributor to aquaculture production and one of the leading countries.
In the fisheries business, high production and long-term sustainability are critical. Price, water pollution, and disease outbreak prevention are just a few of the issues that must be addressed. Biofloc fish farming is one of the most effective ways available today for assisting fish farmers in achieving a variety of goals, including high output, cheap cost, sustainable growth, improved revenue opportunities, reduced land, and lower maintenance costs.
The Biofloc system was created to improve environmental control over the production of aquatic animals. The most significant factor in aquaculture is feed cost (which accounts for 60% of total production costs) while the most limiting factor is water/land availability. Wastewater treatment is required for high stocking density and aquatic animal rearing. The Biofloc system is a wastewater treatment device that has become more important in aquaculture.
The greater C: N ratio is maintained by adding molasses as a carbohydrate source, and the water quality is improved by producing high-quality single-cell microbial protein. Dense microorganisms grow in such conditions and serve as a bioreactor that regulates water quality as well as a source of protein. Because heterotrophs have a ten-fold higher growth rate and microbial output per unit substrate than autotrophic nitrifying bacteria, hazardous nitrogen species are immobilized more quickly in bioflocs. This method is based on the notion of system flocculation.
Because of its bottom-dwelling habit and tolerance to environmental changes, biofloc technology has been used in shrimp farming. Shrimp and Nile tilapia larval development and reproductive success have been evaluated in studies. When compared to regular culture procedures, shrimp grown in biofloc technology showed better breeding performance. Similarly, there was an improvement in larval development performance.
Execution of Biofloc Fish Tank System
Fish in traditional fish farming systems consume relatively little of the feed that is placed in the water for them. Toxic metabolites are formed as the waste feed degrades. It pollutes the water and has a negative impact on the environment due to the stink it emits.
Fish farming would not be possible without feed. For the fish's growth and development, a consistent amount of feed is required every day. Feed is expensive to get, hence wasted feed is a loss for farmers.
Wasted feed, as well as fish excreta in the aquatic ecosystem, are transformed into feed for the fish in the Biofloc fish farming system. A biofloc is formed when microorganisms, fungi, algae, and other organisms work together to absorb inorganic waste and improve water quality. In this way, the problem of water contamination is solved. Furthermore, fish growers can save money on feed, which is also widely available.
Composition of Fish Tank System
Biofloc is an extracellular polymeric material containing a heterogeneous aggregate of suspended particles and a diversity of microorganisms. It is made up of bacteria, algae, fungi, invertebrates, and detritus, among other microorganisms. It's a protein-rich live feed created when wasted feed and excreta are converted into natural food in a culture system after being exposed to sunlight. Each floc is held together by a loose mucus matrix produced by bacteria and held together by filamentous microorganisms or electrostatic attraction. Large flocs are visible to the human eye, but the majority are tiny. Flocs range in size from 50 to 200 microns.
Sector
Aquaculture
Salient Features
Biofloc tanks are highly durable with a long lifespan
They are easy to handle and install.
Cost-efficient
The biofloc tanks are UV stabilized and inert to most chemicals
Being lightweight, transportation is easy as well.
They are weather-proof.
Eco-friendly with limited or zero water exchange
Use of biofloc tanks leads to higher productivity and biosecurity
It reduces water pollution and the threat of pathogens
Applications
Fish farming
Shrimp farming
Other applications like rainwater collection
Water storage
Irrigation
Cost-effective feed production
Benefits of Biofloc Fish Tank System
Culture system that is environmentally beneficial.
It has less of an influence on the environment.
Improves the efficiency of land and water use
Water exchange is limited or non-existent.
Productivity gains (It enhances survival rate, growth performance, feed conversion in the culture systems of fish).
Biosecurity is improved.
Reduces water pollution as well as the possibility of pathogen introduction and dissemination.
Feed production at a low cost.
It lowers the expense of conventional feed while increasing the consumption of a protein-rich diet.
It relieves strain on capture fisheries by allowing for the use of less expensive food fish and trash fish in the composition of fish feed.
Suitable For -