Drainage Cell Manufacturers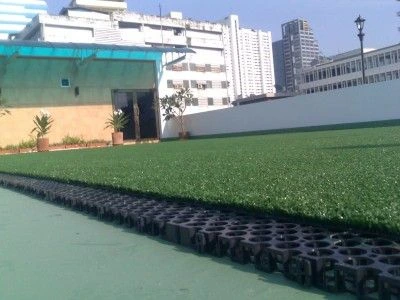 Best Drain Cells Manufacturers and Suppliers in India
Ocean Global has unrivaled experience in geosynthetic products and solutions. In our extensive range of geosynthetic products, we also manufacture premium Drain Cells/Drainage Mats, available in varying sizes.
The most common and in-demand drainage cells are HDPE 13 mm flexo drain Cells, 20 mm drain cells and 30 mm drain cells. We are the best Drain Cells Manufacturer in India at a low price.
Table of Contents
What are Drainage Cells?
Drainage Cell Systems provide a suitable solution for sub-soil drainage applications, allowing for the creation of a successful Roof Garden without the worry of cracking or leaking. The drainage cells provide a consistent surface as well as an internal void space for optimum water drainage. They have a unique Diamond CUP structure that provides water retention for passive irrigation and aids in the formation of a high water table in the soil above profile, allowing vegetation to thrive over lengthy periods of drought.
Drainage Cells are mostly comprised of recycled polypropylene and are resistant to bacteria and chemicals found in the soil. Landscapers can employ established plants on roof gardens that require soil depth and water retention capabilities thanks to Nero cells' shadow and good drainage profile. Thermal expansion can occur in concrete during hot summer temperatures, causing the waterproofing to crack. Drainage cell systems, with their distinctive design and void features, aid in the escape of heat and, as a result, lower the risk of cracking, extending the life of the building.
The Drainage Cell System is an ideal option for subsurface drainage applications in order to create a successful roof garden that is free of cracking and leaks. The 30mm Drainage Cell has a uniform surface as well as an internal void space that allows excess water to drain effectively.
The 30mm drainage cell system features a unique CUP structure that retains water for passive irrigation and aids in the formation of a high water table above the soil profile, allowing vegetation to thrive over protracted dry periods.
The 30mm drainage cells are comprised of HDPE (High-Density Polyethylene) material, which is resistant to soil-borne pollutants and microorganisms. Landscapers can employ mature plants on roof gardens that require soil depth and water retention capabilities thanks to Leiyuan drainage cells' shallow and effective drainage profile.
High summer temperatures can promote thermal expansion in concrete, causing waterproofing to crack. The 30mm drainage cell system, with its unique design and void features, allows this heat to escape, reducing the danger of cracking and extending the life of the building.
What are Drainage Cells Used for?
Drain cells are structural drainage modules made entirely of recycled polypropylene that is used in subsurface drainage systems that demand a high water capture and discharge rate as well as strong compressive strength. Roof gardens, planter boxes, basements, pond filtration systems, and disguised drains all use drain cells. Drain cell modules can be interconnected in the same plane or at right angles to one another without difficulty.
Implementation of Drainage Cells
Drainage Cells are a product that Ocean Global recommends to its customers for establishing a very effective drainage pathway. Drainage Cells are a type of high-density polyethylene tile that acts as a permanent non-clogging gap between the concrete slab and the soil beneath it. Because the sturdy HDPE will not collapse or sag, they are suitable for drainage in rooftop gardens and planter boxes. Furthermore, the 500mm square tiles' flexibility allows for installation in a variety of arrangements.
Each tile is 30mm high and contains 95 percent internal void space and 67 percent surface void space. This means that straight water flow to the designated outputs can be achieved by preventing water build-up and penetration. Superior drainage efficiency is enabled by the wide surface area and capacity empty space. Gravel creates little voids, which are less efficient once again. In comparison to gravel, lightweight drainage cells reduce weight on the structure by roughly 98 percent. You can also utilize an additional drainage filtration layer in this application.
It provides a highly effective filtration barrier for preventing soil from entering and clogging drainage cells when it is placed on top of the drainage cell. We have a great staple fiber geotextile that may be utilized for drainage and filtration. It's mostly utilized in trenches, raised gardens, and behind retaining walls as a stockpile cover. It creates an incredible filtering and temporary erosion control barrier in the subsoil.
Function
Subsoil drainage.
Sector
Civic and landscaping, slopes and walls, coastal, rails, and roads.
Salient Features
Lightweight and high strength.
Modular drainage for subsurface drainage.
Acts as a protective layer on waterproofing membranes.
The 30 mm geo drain cell voids allow for rapid transport of water to the plants.
Ease of installation by interlocking the drainage mats.
Made from recycled polypropylene, it is environment-friendly and inert to soil-borne chemicals and bacteria.
The drainage mats have a high compressive load and carrying capacity.
Applications
The drainage cells increase load capacity in areas with heavy use.
Drainage mat provides slope and embankment stability
Golf courses
Sports fields
Retaining walls
Tunnels
It is a perfect solution for roof gardens obliterating the traditional problems of cracking and leakage.
Planter boxes
Podiums garden geo drain cell
Green wall grass paver/drain cell for green grass used in landscaping.
Suitable For -