Erosion Control Mats & Blankets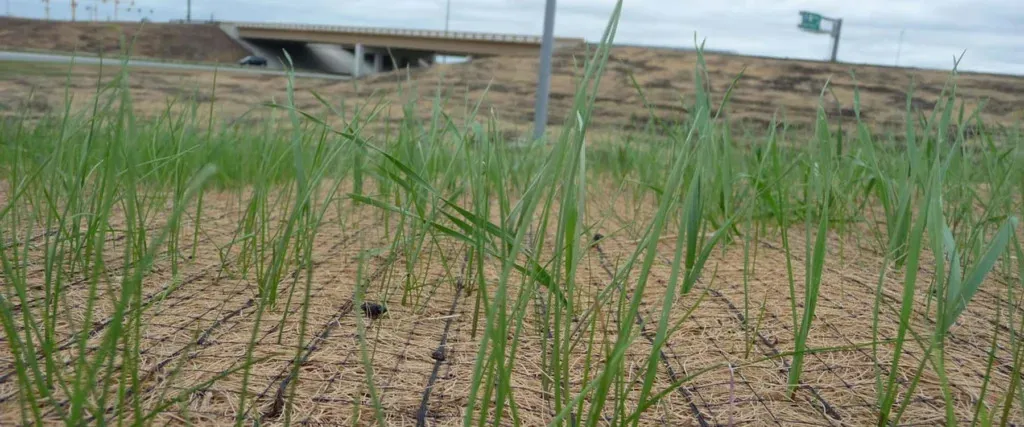 Erosion Control Mats
In our pursuit of a clean green environment, we continuously come up with ecologically safe solutions. Ocean Global is the leading Erosion Control Mats Manufacturers in India, utilizing coir geotextiles and jute geotextiles. Our erosion control mats provide cost-effective utility across a range of infrastructure projects that face erosion issues.
Table of Contents
What are Erosion Control Mats?
Erosion Control Mats, also known as erosion control blankets, are manufactured from coir geotextiles and jute geotextiles. They provide stabilization and reinforcement, preventing soil erosion in various scenarios such as at rivers, trenches, hills and slopes, and lakes and ponds. They are durable and blend effortlessly into the environment being completely organic and biodegradable.
Different worksites and landscapes demand different kinds of erosion control mats. Some factors that come into play when choosing an erosion control mat are location, water flow, desired longevity, etc. The strength and resilience of the erosion control mats depend on the geotextile weave, netting, fiber density, and so on.
It can also be utilized as an overlay for damaged blacktop roads, footpath pavements, housing complex roads, container yards, haul roads for mineral product transport, and heavy vehicle parking areas, among other things.
Erosion control mats are a simple and cost-effective option for erosion management. You may assist prevent soil shifting and promote new plant development by covering open land with these mats before, during, and after your project. This tutorial will go through the overall concept of an erosion control blanket, how they work, and what kinds of purposes they serve, among other things.
Erosion may be a big problem for communities because it disrupts natural processes and changes the landscape. Soil erosion occurs when external influences such as weather and runoff cause soil particles to separate, migrate away from their original site, and deposit in a new location. Sheet, gully, stream bank and bed, and wind erosion are only a few of the different types of erosion that occur depending on the surrounding topography and patterns.
Depending on the purpose and materials, erosion control blankets are sometimes known as erosion control mats. They work to combat several types of soil erosion and avoid any associated harm while also increasing soil stability. The mats, when properly placed, will keep silt and topsoil from shifting until the plant takes root, which will naturally combat erosion.
These mats are usually delivered rolled up like carpets, allowing developers to place and unroll them as needed. Organic or synthetic materials, or a combination of both, make up Rolled Erosion Control Products (RECPs). Some of the most popular components are coconut fiber, wood excelsior, agricultural wheat straw, polypropylene blends, concrete lends, and other synthetic fibers.
Types of Erosion Control Blankets
1. Photodegradable Erosion Control Blankets
The netting on photodegradable erosion control mats is usually composed of plastic. UV stabilizers in the plastic are meant to stop working after a certain length of time. After then, when exposed to sunshine, those sections of the netting degrade. The netting that isn't exposed to sunlight, on the other hand, may take significantly longer to deteriorate.
2. Biodegradable Erosion Control Blankets
Natural fibers, rather than polymers, are commonly used in biodegradable erosion control blankets. Because the fibers degrade in the natural environment, these blankets are a good solution for projects where minimizing environmental disruption is a top priority. Biodegradable erosion control blankets can degrade in as little as a few months or as long as a few years, depending on their composition.
Erosion Control Blanket Purpose
Erosion is a normal part of life. You may face challenges such as severe rainfall and runoff washing away topsoil, high-speed winds blowing away dry dirt, gravity contributing to shifting soil on steep slopes, and more, depending on the area and environment you're working in. These occurrences can put employees at risk, stymie project progress, and prohibit plants from providing natural erosion control. They can also transport pollutants and toxins, putting water supplies at risk and causing harm to man-made structures and infrastructure.
Erosion control blankets are primarily used to keep soil from shifting or migrating. They help to retain soil particles and sediments in place, preventing them from sliding owing to water, wind, or other natural forces. These blankets create an atmosphere where new seeds can take root by holding the dirt stationary. They protect and cover the seed, providing a stable environment for it to begin growing while also allowing it to get the air and water it requires.
Human-caused erosion hazards need the use of RECPs. Developers in the transportation industry, for example, are frequently required to flatten sloped regions or cut new embankments. Erosion control blankets can be placed on loose, exposed soil to prevent devastating mudslides and keep the ground in place until plants take root and naturally protect the region. Mine and oil well reclamation initiatives follow the same principle.
Sector
Roads, civic and landscaping, slopes and walls, construction, and restoration projects.
Function
Erosion protection, stabilization, and reinforcement.
Salient Features
The erosion control mats are environmentally friendly, made of natural fibers of jute geotextiles, and coir geotextiles.
Jute is the most robust, natural erosion control geotextile.
Jute fibers in erosion control mats aid in moisture retention and weed suppression.
Made from natural fibers, they are biodegradable and pose no threat to the environment.
Higher tensile strength and longevity.
The thick jute geotextile erosion control mats act as a mulch and also reduces moisture loss due to evaporation.
The coir geotextile erosion control mats serve well on steep slopes, safeguarding vegetation, and prevent erosion.
They can withstand environmental risks as well as cold temperatures.
Applications
Stream bank restoration
Being biodegradable, they add value to the soil, promoting vegetation
Wetland construction and restoration
Stabilization in high-flow channels
Slope stabilization and re-vegetation
Mining rehabilitation
Gardens and re-vegetating beds
Riparian corridors
Roadside and general landscaping
Suitable For -