Non Woven Geotextiles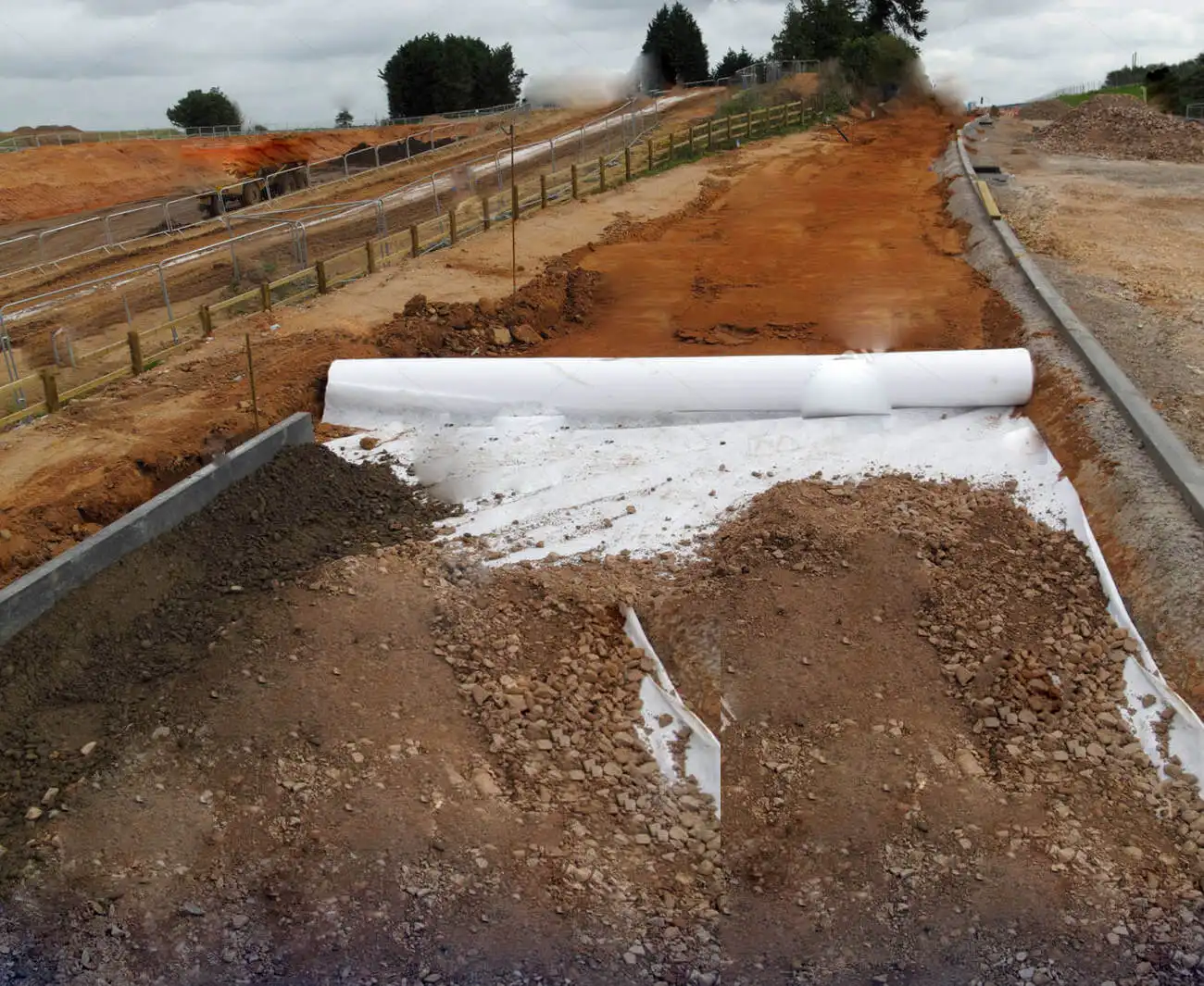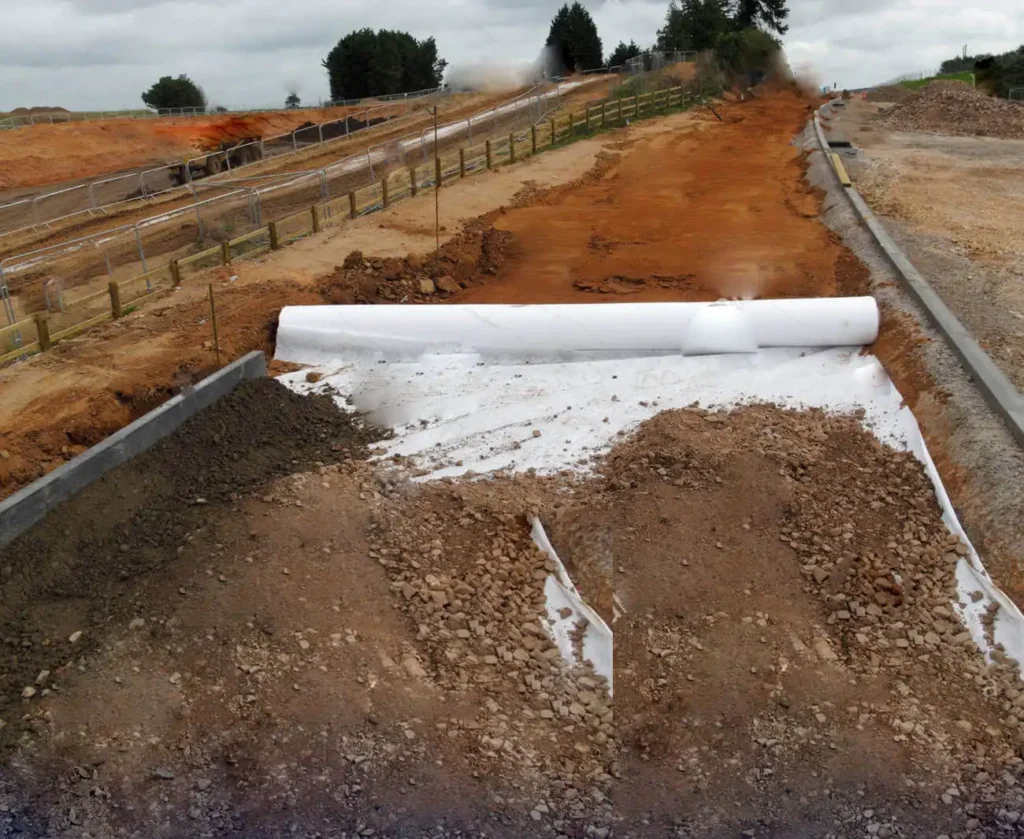 What is Geotextile & Why we Are the Best Geotextile Manufacturers
Ocean Global – the leading geotextile manufacturer in India offers a healthy and durable Geotextile range that is stitch-less and comes in a variety of colors and lengths to meet the needs of our customers. These are typically installed along river embankments, sides, canal banks, and hill slopes to control landslides and soil erosion. This collection of woven open mesh fabrics is made entirely of natural and biodegradable coir. During the formation of vegetative cover, these natural nettings keep the soil and seed intact. It adds organic nutrients to the soil as it degrades. Coir Geotextiles are "environmentally friendly" materials.
Ocean Global's Non-Woven geotextile product line is quality certified to the highest manufacturing standards in ISO-accredited quality factories for both domestic and international markets. The product is covered in a UV-resistant outer wrap that allows it to be left outside for later usage if the wrapper is not removed prior to deployment and use. For various engineering applications, Ocean Global provides the polyester continuous filament nonwoven geotextile in a variety of weights, strengths, and filtering characteristics. Additionally, these grades are available in a variety of roll widths and lengths to meet your needs.
History of Geotextile
Geotextiles have a long history of use in civil, coastal, and environmental engineering constructions for filtration, drainage, separation, and protection. Geotextiles are a relatively low-cost product that, when designed and implemented properly, can replace typical granular treatments at a significant cost reduction, both in aggregate quantities utilized and in labor costs to install such aggregate systems.
Non-woven geotextiles are polymer-based products produced using a number of methods. The most appropriate type of geotextile for the designer or contractor is usually determined by the engineering use for the product.
Geotextiles are classified in a wide range of ways depending on the manufacturing procedures used. Geotextiles made from continuous filament or staple fiber are available at Ocean Global.
Table of Contents
Description of Geotextiles
Geotextile fabrics are technical textile fabrics used in construction, landscaping, and ecosystem management. They differ slightly in that they are porous fabrics.
Sectors
Transportation
Ports and marine
Power
Mines
Heavy industries
Ririver & flood protection
Landscaping, etc.
Function
Separation
filtration
drainage
protection
reinforcement
stabilization
Ocean Geotextiles have superior performance, excellent uniformity, and high resistance to damage during installation. They have high tensile strength and are cost-effective, available in varying strength and thicknesses.
Product Array
Ocean Global geotextile fabrics include non-woven geotextiles and woven geotextiles. We are one of the best non-woven geotextile manufacturers in India.
Separation, filtration, drainage, protection, reinforcement, and stabilization.
Ocean Geotextiles have superior performance, excellent uniformity, and high resistance to damage during installation. They have high tensile strength and are cost-effective, available in varying strength and thicknesses.
Major Differences Between Woven and Non-woven Geotextiles
Geotextiles have a wide range of geotextile applications, however, the majority of them come under the broad categories of erosion control, soil stability, and drainage. There is, however, a distinction to be made between woven and non-woven geotextiles, with each having a distinct advantage depending on the task at hand. Here's an overview of what each category entails, as well as the types of projects that each is most suited for.
Woven Geotextiles
Woven geotextiles is manufactured by weaving. Individual threads, such as monofilaments, fibrillated yarns, slit films, and other materials, are woven into one large, homogeneous piece on a loom. Woven geotextiles have a high load capacity as a result of this technique, making them suitable for geotextile applications such as road building. Because these geotextiles are made by weaving threads or films together, they aren't extremely porous, making them unsuitable for tasks that require drainage. This similar property makes them perfect for some erosion control operations in which water must pass over a surface without sinking into the soil below.
Functions of Woven Geotextiles
Separation, reinforcement, filtration, and stabilization.
Sectors in which Woven Geotextiles are used
Transportation, water resources, irrigation and flood control, ports, and marine.
Salient Features of Woven Geotextiles
Superior resistance
Better permeability
Rot-resistant
Biological degradation resistant
UV resistant Chemically inert
High tensile strength, low elongation
Can handle very high loads
Applications of Woven Geotextiles
Road stabilization
The embankment on soft ground
Railroad support
Rip Rap support
Aggregate separation
Erosion control
Non-Woven Geotextiles
Non-woven geotextiles are made by chemically or thermally gluing materials together, needle punching, or other processes, rather than weaving cloth on a loom. They're made of synthetic materials and are frequently utilized in filter and separation applications. Non-woven geotextiles aren't always the best choice for stabilization and reinforcement projects. They're frequently used to keep inner and external penetrations out of geotextile membrane lining systems. Non-woven geotextiles will degrade more quickly than woven geotextiles. Non-woven geotextiles, on the other hand, are likely to be the best choice for projects where pooling water is a big concern.
Function of Non Woven Geotextiles
Filtration, drainage, separation, and erosion control.
Sectors in which Non-Woven Geotextiles are used
They are robust and durable and suitable for industries of transportation, rail formation, ports and marine, water resources and embankments, liner protection, residential plumbing and real estate, and waste management.
Salient Features of Non-Woven Geotextiles
Most versatile
High tensile strength and elongation
Comparatively more resistant to puncture
Excellent filtration Mechanically robust
Higher resistance to installation damage
Applications of Non Woven Geotextiles
Asphalt overlay
Erosion control
Environmental engineering products
Sediment dewatering bags
Coastal protection
Subsurface drainage
Landscaping
Landfills
What is non-woven geotextile fabric used for?
When both soil isolation and permeability are necessary, non-woven geotextiles are used. These materials are frequently used to wrap French drains or in conjunction with other sub-surface drainage systems. Non-wovens are also commonly employed beneath rock riprap revetment, where separation and drainage are both important.
Suitable For -