Premium Quality Pond Liners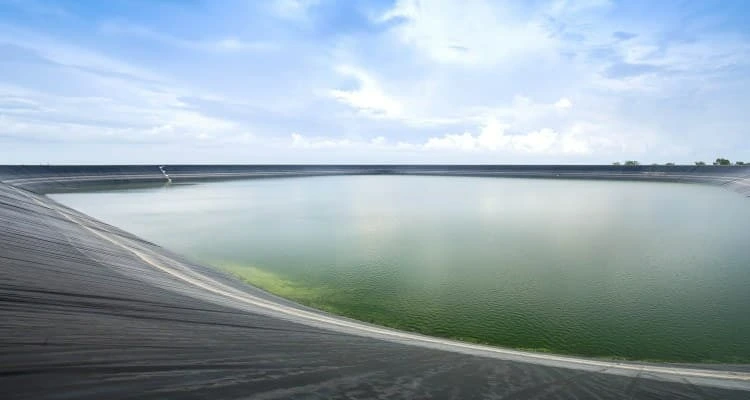 Ocean Global is a leading manufacturer of premium quality Pond Liners in India. We are the best Fish Pond Liner Manufacturers and Suppliers in India.  Our HDPE Pond Liners have exceptional physical properties and are long-lasting. Available in various thicknesses and colors, they are heavy-duty, economically viable, and an ideal choice for diverse applications.
Table of Contents
Description
Pond Liners are impermeable liners that help in the retention of liquids. Their most common utility is as a lining in reservoirs, ponds, artificial streams, and retention basins. The geotextile underlay protects the pond liners from penetration issues by sharp stones, roots of plants, etc.
Premium quality Pond Liners are Geomembranes made polymers. Ocean Pond Liners offer superior flexibility , strength and are resistant to UV radiation and can withstand any weather conditions. The HDPE black, fish pond geomembranes are extensively used.
Function of HDPE Pond Liners
Retention, containment, and collection.
Sector
Aquaculture, agriculture, artificial water constructions.
Salient Features
Highly flexible and durable.
Optimal protection and retention.
Eco-friendly.
Anti-seepage.
Lightweight and offer ease of installation.
UV stabilized and cost-effective.
High tearing resistance and puncture resistance.
A better alternative to natural clay liners.
Applications
Ornamental lakes.
Fish farming.
Rainwater harvesting.
Raw water harvesters.
Liners for the effluent treatment plants.
Agricultural purposes.
Canal lining.
Aquamarine lining (development of fish, algae, shrimp).
Industrial lining (soil pollution prevention).
Industrial geomembrane lining.
Roadblock sheet.
Construction concrete lining.
Biomedical waste dump yards.
The floating geomembrane covers help with reducing algae infiltration, accelerating biological treatment.
Want to know more about HDPE Pond Liners ? Check out the Cost & Tips to use
Suitable For -